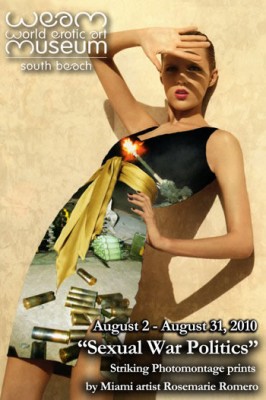 Sexual War Politics
Monday August 2 2010, 6pm
World Erotic Art Museum
1205 Washington Avenue
Miami Beach
www.weam.com
Intriguing and provocative, attacking wars in the Middle East, Africa and other distant countries, the seductively-oriented work of Miami artist Rosemarie Romero will be seen in the premiere of her newest exhibit, "Sexual War Politics," opening a month long run Monday, August 2 with a reception for the artist from 6-10 P.M. at the World Erotic Art Museum.
In a powerful display of artistic courage, Romero attacks global conflicts through her deconstruction and personal criticism of pop culture and politics which inhabit the lives of those who live in the 21st century. American pornography and fashion shoots are cut, scanned and juxtaposed against war photography from countries in war-torn conflict to incite dialog and reflection on our fragmented times.
Food & beverages reception with paid museum admission.
Artist information: www.rosemarieromero.com
General information: 305.535.9336
$15 adults; $14 seniors, $13.50 students; free for WEAM members.