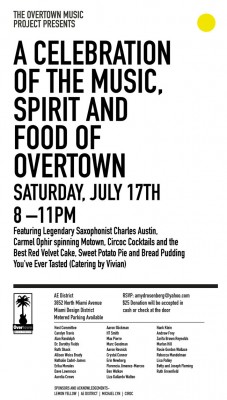 Overtown Music Project
July 17th 2010, 8 – 11pm
AE District
3852 N Miami Avenue
Design District
www.overtownmusicproject.org
This is a celebration of the food, music and history of Overtown.
Overtown used to be called the "Harlem of the South." Join the Overtown Music Project and our fantastic host committee of Miami luminaries for a celebration of the music, food and spirit of Overtown.
Featuring legendary jazz saxophonist Charles Austin, Carmel Ophir spinning Motown, soul food (think yummy red velvet cake, peach cobbler and sweet potato pie) and Ciroc cocktails.
$25 donation benefits the Overtown Music Project
Please rsvp to amydrosenberg@yahoo.com
Special thanks to the lovely folks at AE District, Ciroc Vodka, Michael Lyn, The Vagabond and Lemon Yellow