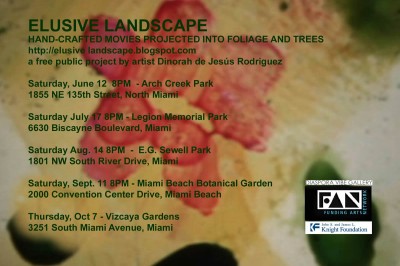 ELUSIVE LANDSCAPE: Legion Memorial Park
July 17, 2010, 8-10PM
Legion Memorial Park
6630 Biscayne Boulevard, Miami, FL 33138
"Elusive Landscape" will be presented at five public parks in Miami from June to October 2010. This work consists of multiple hand-crafted 16mm films depicting the forms and colors of natural landscapes projected directly into the landscapes themselves. These events will be free and open to the public.
"Elusive Landscape" promotes environmental awareness by celebrating Miami's lush urban greenspaces and natural eco-systems. It connects the city's diverse audiences and neighborhoods by engaging everyday people with an experience that is sensorial, magical, celebratory and rooted in nature, and by presenting similar events across the city so that it becomes a shared, unifying experience.
Artist Dinorah de Jesús Rodriguez brings to this project over 30 years' experience in hand-crafted 16mm filmmaking, as well as a history of moving image installation, including several works which have included projections in the outdoors. Her work is exhibited internationally in film festivals, museums, galleries, independent venues and public spaces, and she has received numerous grants, fellowships and residency awards for her work.
Unique soundscapes for each site will be provided by composer and sound designer Ricardo Lastre, best recognized for his work with Las Negras Performance Ensemble, Lucia Aratanha, Giovanni Luquini Performance Troupe, Akropolis Acting Company and the late Jennylin Duany.
This project won Funding Arts Network's 2009 FAN Knight New Work Award, an initiative of Funding Arts Network funded by the John S. And James L. Knight Foundation. The project has received additional support from Tigertail Productions, the Miami-Dade County Department of Cultural Affairs, and Fundación Valparaíso in Almería, Spain.
http://elusivelandscape.blogspot.com
Presented by Diaspora Vibe Cultural Arts Incubator.
In case of rain, this event will be rescheduled to the following Saturday, July 24.