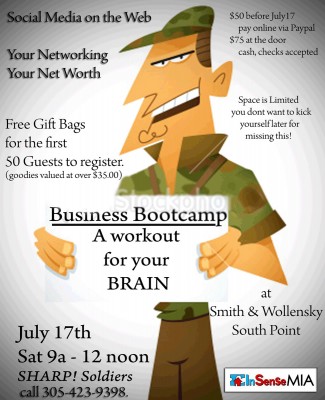 Business Bootcamp – Social Media on the Web, Your Networking, Your Net Worth
July 17, 2010, 9am
Smith & Wollensky
1 Washington Avenue
Miami Beach FL 33139
www.insensemiami.com
Experience a Business Bootcamp approach to getting it all done. Finally an all inclusive session that will explain it all!
Maximize your time online with tips on:
How to have effective marketing online – discounts, promotions, incentives!
How to increase exposure for your company on Facebook, LinkedIn and Twiiter – or at least set one up for the first time!
How to increasing your marketability – who are you selling to?
Also learn what to include with:
Do's and Dont's
and lets not forget Facts and Stats.
You're invited to our Business Bootcamp series for selected people who can really benefit from knowing what the inside tips are for having an online presence.
Social Media is here to stay – so, do people know you exist?
A 3 hour seminar to interact, create,and showcase your company while learning how to increase your net worth! (Let's not even start talking about what your savings account balance, but we can turn that around)
Wait, there's more!
Meet our Onsite Business Partners who will help design logo, create website, print materials, headshots, PC repair, Accounting & Bookeeping services and generally everything you need to be competitive in this online market.
These people know what they are doing and can help you!
Free Gift Bags for the first 50 Guests to register. (goodies valued at over $35.00)
Plus we are having light refreshments!
$50 before July17 – pay online via Paypal
$75 at the door – cash and checks accepted
Space is Limited and you dont want to kick yourself later for missing this!
info@InSenseMiami.com
http://events.constantcontact.com/register/event?oeidk=a07e2ymqjlz2a24284d