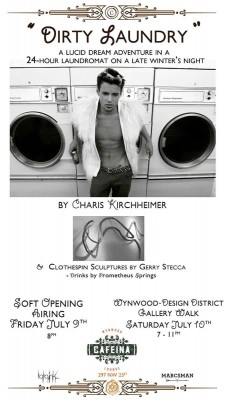 Marcsman Co. Airs Dirty Laundry at Cafeina this Weekend
"Dirty Laundry" at Cafeina Lounge & Gallery
294 NW 23 St.
Fri. 7/9 – 8pm. Sat. 7/10 – 7pm.
Join us this Friday, July 9 at Cafeina for the soft opening of Charis Kirchheimer's month-long "Dirty Laundry" exhibit and for the official kick-off taking place during Wynwood – Design District's Gallery Walk on Saturday, July 10.
Artist Gerry Stecca will be contributing a few of his enchanting clothespin sculptures for the month as well.
Drinks by Prometheus Springs.
Charis Kirchheimer
Prometheus Springs
Cafeina Lounge & Gallery