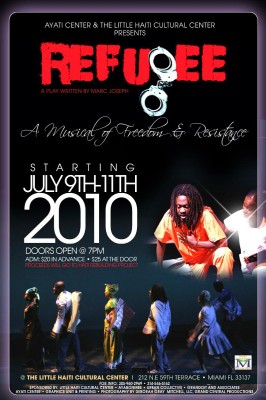 Ashley Jean, Kerline Cajuste and Samandie Douceur, Miami Edison Middle School participants in the After-School All Stars / Arts for Learning Program Spring 2010 invite you to an evening of art for Haiti in conjunction with Marc Joseph and Ayabonmbe's performance of REFUGEE.
Student Work from Arts for Learning classes at both Toussaint L'ouverture Elementary and Miami Edison Middle School will be exhibited in the Little Haiti Cultural Center Theater Lobby on Saturday, July 10 for performance attendees.
Our work since the earthquake of January 12 has been driven by concern, sadness and love for our brothers and sisters in Haiti. Join us as we send our handmade messages, 4 flags, to children at the Shalom Village Orphanage in Cap Haitien and take donations for supplies to help them in their art-making. Maeva Renaud, also part of the Arts for Learning family and founder of theChange is Coming Campaign whose primary focus is the orphanage, will receive our flags at the opposite end of the bridge we are building.
Please support the heart-centered efforts of Little Haiti's young people. Your ticket purchase for the performance also benefits the Haiti Rebuilding Project. Secure the advance price of $20 by calling 314.546.5162, or call or visit the Little Haiti Cultural Center 305.960.2969, 212 NE 59thTerrace. Miami. FL 33137 Our exhibit will be accessible to ticket holders only.
Many thanks and we look forward to seeing you!
Claudia Montesinos
Arco Iris Workshop
Arts for Learning Teaching Artist
Toussaint L'ouverture Elementary
Miami Edison Middle School
Spring 2010
Arts for Learning's programming is made possible by individuals like you and by support from Assurant Solutions, Bank of America, City of Miami, City of Miami Beach, Cultural Affairs Program, Cultural Arts Council, Dade Community Foundation, E.S. Moore Family Foundation, Jonathan D. Lewis Foundation, Miami-Dade County Department of Cultural Affairs and the Cultural Affairs Council, and the Miami-Dade County Mayor and Board of County Commissioners, Rush Philanthropic Arts Foundation, The Children's Trust, and Young Audiences, Inc. For more information, please contact Kalyn James at 305-576-1212.