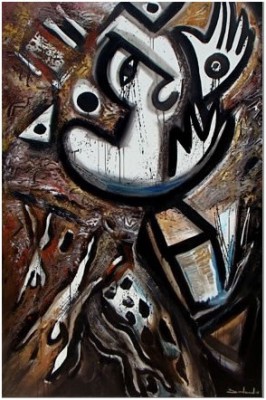 Meet and Mingle with Phillipe Dodard
July 28, 2010, 6-8pm
The Patricia & Phillip Frost Art Museum
Florida International University
Maidique Campus
10975 SW 17th St.
Miami, FL 33199
http://thefrost.fiu.edu
The event is free and open to the public.
The Frost Art Museum Presents
Meet & Mingle with artist Philippe Dodard
Earthquake 01.12.10 by Philippe Dodard
Image courtesy Galerie Marassa
(Miami, FL – July 13, 2010)- Come Meet and Mingle with Haitian native Philippe Dodard, a contemporary artist of the Caribbean and the African Diaspora, on Wednesday, July 28th, 2010 at 6 p.m. at The Patricia & Phillip Frost Art Museum located at 10975 SW 17 Street, Miami, FL 33199. The event is free and open to the public.
Dodard will speak about his works during this new summer lecture series at The Frost. Dodard enrolled in the Academy of Fine Arts, where he founded a studio for audiovisual graphic arts. His art combines Haitian, Caribbean and African elements to portray his themes of man's journey through life. He blends painting, sculpture, drawing, words and sounds in his works to express the love that he finds in every human being.
Complementary academic trainings followed, first at the Academy of Fine Arts of Port-au-Prince and then the International School of Bordeaux, France provided the basics inherent to this field. But unlike most of his contemporaries who moved directly to art creation, Dodard engaged in a quest for a deeper knowledge of the human-spiritual. His pursuit, took him first to the Ashram at the top of the mountains surrounding Port-au-Prince and later to the iconographies of the Arawak, Taïno and African masks. He knew the challenges would be to create an art that awakens rather than satisfies the mundane desires of the clientele, an art which embodies different answers to our seemingly irresolvable human problems, which found particular articulation at a different moment in our history.
This lecture is co-sponsored by the Latin American and Caribbean Center (LACC) at Florida International University and part of LACC's 13th Annual Haitian Summer Institute. Philippe Dodard is represented by Michele Frisch of Galerie Marassa (http:// galeriemarassa.com)