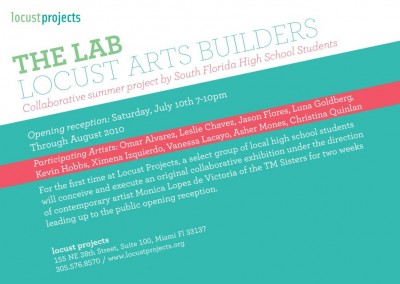 MIAMI ART SCENE PIONEER, LOCUST PROJECTS, ANNOUNCES A COLLABORATIVE EXHIBITION BY SOUTH FLORIDA HIGH SCHOOL STUDENTS
The LAB (Locust Arts Builders)
Opening Reception: Saturday, July 10, 7-10pm
Through August 2010
Pioneers in the Miami art scene, Locust Projects is pleased to announce a collaborative exhibition by a select group of South Florida High School students. Under the direction of renowned contemporary artist Monica Lopez de Victoria of the TM Sisters, nine local high school students will experience the invigorating and arduous process of conceiving and executing original artworks from June 28 to July 10, 2010.
These students, currently attending Design and Architecture Senior High, Hialeah Senior High, Miami Northwestern Senior High and New World School of Arts answered an open call and were hand-selected by a committee of local art professionals.
Participating Artists: Omar Alvarez, Leslie Chavez, Jason Flores, Luna Goldberg, Kevin Hobbs, Ximena Izquierdo, Vanessa Lacayo, Asher Mones, Christina Quinlan
As a hallmark that makes Locust Projects stand out from other art venues, the organization embraces cutting-edge exhibitions and innovation in art. In furtherance of the not-for-profit's twelve-year commitment to providing an approachable arts venue for the South Florida community, for the first time, Locust Projects has created an exciting new program in which a young generation of artists are given the opportunity to create a collaborative exhibition in a public venue.
The project will be developed and exhibited in Locust Projects' 2,700 square foot space in Miami's Design District and culminate in a publicized show, open to the public. The goal is to promote contemporary art and project-based learning as a means to encourage creativity, critical analysis, and problem solving, while building communication skills. This unique initiative will allow young artists to learn the practical and exciting aspects of creating a public exhibition in collaboration with their peers.
2010 marks Locust Projects' 12-year anniversary. Locust Projects is alternative, not for profit exhibition space dedicated to providing contemporary visual artists the freedom to experiment with new ideas without the pressures of gallery sales or limitations of conventional exhibition spaces. Artists are encouraged to create site-specific installations as an extension of their representative work and Locust Projects offers them a vibrant Miami experience to develop their ideas and methods. Locust Projects is committed to offering an approachable and inviting venue for the Miami and international art community to experience the work and meet the artists. With more than 65 exhibitions, representing more than 210 local, national, and international artists, Locust Projects has supported site-specific and installation artworks featuring photography, video, performance, sculpture, drawing, painting and digital media making it a nationally-recognized art institution, and a landmark in the Miami art scene.
Monica Lopez De Victoria is a Miami-based artist that works in collaboration with Tasha Lopez De Victoria under the name TM Sisters. Together the sisters work in the mediums of video, digital video performance, VJing, collage, social experiments, zines, clothing, installations, and interactive video created along with their brother Samuel. The TM Sisters' recent exhibition, WHIRL CRASH GO! at Locust Projects was featured in The Miami Herald. The sisters' work has been included in the international traveling exhibition "Uncertain States of America: American Art in the 3rd Millennium;" the Second Moscow Biennale of Contemporary Art, and PERFORMA 07 in New York. Their work has been seen and written about in publications like L'Officiel magazine, The Guardian, STEP Inside Design, the New York Times, Vogue Italia, and on the cover of ARTnews.