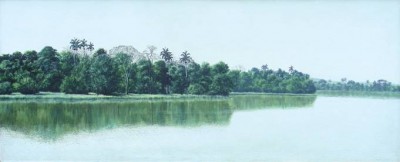 Tomás Sánchez in Focus
Closing Reception
Friday, July 2, 2010 7:00 – 10:00 P.M.
Tomás Sánchez, Lake Shore, 1986, acrylic on canvas, 31 ½ x 77 inches
Last opportunity to view the highly acclaimed one-person show, Tomás Sánchez in Focus.
"[…]Cernuda presents us with the retrospective Tomás Sánchez in Focus, displaying 13 representational works of the artist, wisely selected and which allow us to delve into what Gerardo Mosquera has referred to as "his landscape mysticism"…" Joaquín Badajoz, art critic
Tomás Sánchez o la Reinvención del Paisaje, El Nuevo Herald, Artes y Letras, Sunday, June 20, 2010
"Beautifying a natural landscape is impossible; reinterpreting it is a matter of virtue… A crossroads that Tomás Sánchez must encounter each time he stands in front of the easel with a paintbrush in hand. A task we are able to contemplate in the exhibition now showing at Cernuda gallery." Jesús Hernández, art critic
Apreciación Idílica, Diario Las Américas, Thursday, May 20, 2010
To view Tomás Sánchez in Focus, click on the link.
Also On Display, Selections of Modern and Contemporary Artists. To view this show, click on the link.
Cernuda Arte
3155 Ponce de Leon Blvd., Coral Gables, FL 33134
cernudaarte@msn.com www.cernudaarte.com