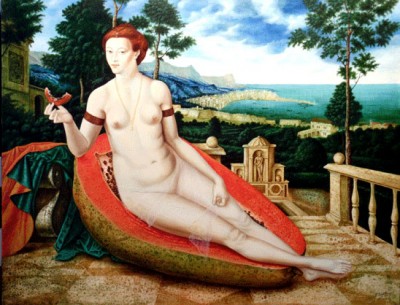 Cremata Gallery's "Annual Summer Exhibition"
June 1st – June 30th 2010
Gallery Night – Last Friday of the month – June 25th, 2010 / 7:00pm – 10:00pm
Show Dates: June 1st – 30th , 2010
Cremata Gallery – 1646 SW 8th Street, Miami FL 33135
www.crematagallery.com
Cremata Gallery is pleased to announce the opening of its annual Summer Exhibition that will be featuring various artists that have been with the gallery since its inception and others that have joined it recently, such as Enrique Toledo.
The exhibition comprises 40 works including paintings, drawings and sculptures. This exposition does not attempt to follow a rigorous chronological or thematic order; instead, it prefers to emphasize an eclectic selection of pieces by established masters, that are highly valued, as well as younger artists with promising careers. The result is a unique and eclectic show, entirely contrary to delimited chronologies and rigorous themes. The joy of the Summer Exhibition always comes from unexpected juxtapositions, not from the pairing of like with like, allowing the eye and imagination freedom, not telling you what you ought to admire or notice.
On this occasion, Cremata Gallery will feature Cuban artist Enrique Toledo (Santa Clara, 1966), who inaugurates his first exhibition in Miami. Toledo, whose work evidences magnificent technical skills, has developed a prolific pictorial portfolio based on famous works in the history of art, which he then recontextualizes in the present adding everyday elements to them. To view his oeuvre, is to make a ludic journey through the paintings of Lucas Cranach, Hans Holbein, Rafael Sanzio, among many other masters. The personages in his paintings radiate an enigmatic magnetism, inviting the spectator to penetrate the work beyond mere contemplation. Enrique Toledo boasts a productive career with more than 40 expositions in his native Cuba, Mexico, Portugal and the United States.
Image: Enrique Toledo, Untitled, 2009, Oil on Canvas, 51.5 x 39.5 inches