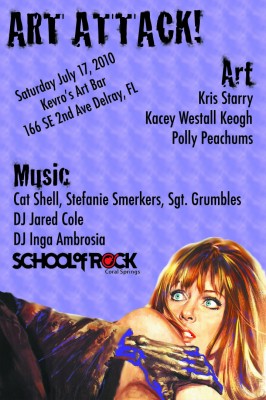 Art Attack! An event that is as big as it's name, this show combine's all forms of art from high brow to low brow, music to make-up.
Saturday July 17th 7pm-2am, Kevro's Art Bar 166 SE 2nd Ave. Delray, FL
Artwork exhibited by three local artists including Kacey Westall Keogh, who's abstract work deals with ephemeral thoughts and the unconscious mind. Polly Peachums work explores femininity and the blurry line of a mature woman and child on the brink discovering her sexuality and Kris Starry a photographer specializing in portraits and fashion, new to the scene but not to be overlooked. She will have a special midnight showing of her newest work.
Boomboxx, a new eco-conscious store in Delray specializing in fresh, funky vintage wear will be presenting a summer fashion show. Michael D'abbieri will provide professional make-up applications for all guests. Tribal infused dancing will be performed by Jennifer Ward and Raquel McInnis with be using the human body as her canvas as she performs live body painting.
Sweet tunes for your ears by six different musical artists including the kids from The School of Rock. Neo-soul/pop/jazz singer/songwriter, Cat Shell. Sgt. Grumbles – a mixture of live hip-hop with influences ranging from Afrobeat, Salsa, Funk, Blues, Jazz and a lot of rum. Stefanie Smerkers, a singer/songwriter who has gained recognition across the State of Florida for her alluring vocals. Dj Jared Cole, master of open format, producer, promoter. And Dj Inga Ambrosia, whose style ranges from trip hop to Brazilian lounge.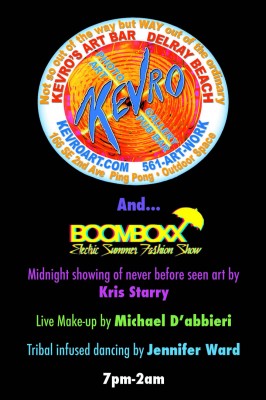 Cat Shell is a neo-soul/pop/jazz singer/songwriter residing in Miami Beach. She performs throughout South Florida with her original 4-piece band and is currently recording her sophomore album to be released in late 2010. In her spare time, Cat also works as a commercial print/spokes model. www.CatShellMusic.com
School of Rock. With more than a decade of successful experience teaching music, School of Rock is the national leader in music education for kids from second grade through high school. Students learn from professional musicians in an interactive environment combining weekly private lessons and structured group rehearsals with the ultimate goal of performing live in front of real crowds and actual rock venues. Areas of instruction include guitar, drums, keyboards, bass guitar, vocals and saxophone. We accept students of all abilities – from kids just starting out to advanced teen players to adults looking to learn more!
Sgt. Grumbles is a groove collective of a wide variety of South Florida talent. Led and conceived by Cleveland-born multi-instrumentalist Burny P., the 4 piece band fronted by MC's Chopp Divize and Pilot Rai performs live hip-hop with influences ranging from Afrobeat, Salsa, Funk, Blues, Jazz and a lot of rum. The music is written from the perspective of talented world-class musicians that aren't afraid to relax, be goofy, and have fun. The members were all local mainstays on the South Florida music scene, and they came together to create a high-energy performance that is as irresistible to your feet and ass as they are to your ears!
Dj Jared Cole has been Dj-ing for 3 Decades (1998-2010). He is a master of Open Format. Also Touring solo artist, producer, and promoter genius. Facebook.com/jaredcolelive
DJ Inga Ambrosia has been a dj/producer in Miami for 7 years. Her style ranges from trip hop to Brazilian lounge. When she's not moving the crowd with her conscious tunes, she is promoting vegan nutrition and wellness. Her debut album "Abyssal Plane" is in stores now.
Stefanie Smerkers is a singer-songwriter that has been surrounded by music her entire life. She has learned to appreciate the hues and vivacity of all types of music, developing sensitivity to a diverse spectrum of music that would later stoke her thirst for creating her own. Most of her songs are drawn from the moments she's experienced, though she sees only the universality of it all. Stefanie has been gaining recognition across the State of Florida for her originality, passion, and alluring vocals. myspace.com/stefaniesmerkers
Artwork:
Kacey Westall Keogh received her BFA from FIU and has exhibited work and performed live drawings nationwide including The Wallflower Gallery, ArtCenter South Florida, EdgeZones Gallery, SCOPE Art Fair, Miami Art Space and Rochester Contemporary Art Center. Her work deals with ephemeral thoughts and the perplexity of the conscious and unconscious mind. www.KaceyWestall.com
Kris Starry is a self-taught photographer residing and working in Delray Beach, FL. Photography has always been a constant part of her life. In 2009 she started her company, Starry Night Photography. Her work has been exhibited at Rochester Contemporary Art Center in New York. She has also been commissioned by many local businesses for her commercial photography and her work has been featured in numerous local magazines. She welcomes a good challenge and will create an original theme to fit any of her client's vision. She specializes in commercial, fashion, and portrait prints. www.starrnightphtography.net
Polly Peachums is the alter ego of south Florida artist and hairstylist Stefanie Merullo. Her work explores femininity and the blurry line of a mature woman and child on the brink discovering her sexuality. Her illustrations are small and shy depicting her brightly colored girls with big curious eyes and curvaceous figures usually teetering on big platforms. She exhibits monthly with other low brow artists at Howley's Diner in West Palm Beach and also takes part in local indie craft fairs such as Delray Beach's annual Stitch Rock and is always working on custom pieces.
Michael D'Abbieri graduated from the Joe Blasco School of Make Up Artistry with skills to construct make-ups transferable for film, print and television as well as special events and special make-up effects. Determined to exceed the limits and ready to take the tides in such a shallow industry, he is enthusiastic about being on location and can create any style of make-up from a clean beauty make-up to high couture runway fashion, or from an easy "painless" black eye to a grungy caveman who crashed his pterodactyl in a racing match.
BoomBoxx specializes in unique, accessible, wearable, and desirable vintage looks and styles from the 80's, 90's, and now. We scour mountains of threads to uncover those "to die for pieces", and each garment is hand selected especially with the BoomBoxx Girl in mind. We thrive on the concept of fashion reincarnation, where once forgotten styles can be resurrected from the garment graveyards, then primed and primped for their grand re-entrance into a fab new life.