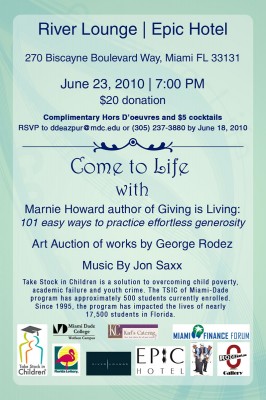 With Take Stock in Children, Giving is Living
Take Stock in Children of Miami-Dade's Giving is Living Benefit Cocktail Reception
Wednesday, June 23, 2010, 7:00 p.m.
River Lounge at the Epic Hotel
270 Biscayne Boulevard Way Miami, FL 33131
www.takestockinchildren.org
Miami, Wednesday, June 23, 2010 – We are all looking for recovery, signs of life after the decline of our economic system. Take Stock in Children of Miami-Dade (TSIC) will host its first ever Giving is Living Benefit Reception at Miami's downtown River Lounge. Author Marnie Howard, a recognized philanthropic leader and the author of Giving is Living, will be in attendance and autographing purchased copies of Giving is Living. Guests will also learn how you can breathe life, hope and kindness back into their everyday lives.
To quote the author, Marnie Howard, "As we work toward solutions, it is vital that charity and humanity not become a casualty of our current economic climate."
Throughout the evening everyone will come to life with the spirit of Jazz in the Gardens artist, Jon Saxx, multimedia presentations from one of TSIC's many successful alumni, an art auction from Miami's own George Rodez Art Gallery. Guests are among Miami's finest and will learn how to pay it forward by incorporating easy acts of kindness into their everyday living. Whether it is nurturing a deserving child through mentoring, sharing a word of kindness, or donating to a worthy cause… with Take Stock in Children, Giving is Living!
Take Stock in Children is an award-winning non-profit organization committed to promoting personal growth, self responsibility, and academic success by providing scholarships, mentors and hope to Florida's underprivileged youth. The program offers a unique set of resources for motivated students who must sign a performance contract to maintain good grades, exhibit positive behavior, remain drug, crime and alcohol free. In turn, Take Stock in Children provides each student with a paid four-year tuition scholarship to a Florida college of their choice or vocational school.
Housed at Miami Dade College's Wolfson Campus, TSIC of Miami-Dade has 500 students currently enrolled. It has graduated and provided scholarships to 625 students of which 93% have enrolled in college. Overall, Take Stock in Children has impacted the lives of nearly 17,500 students throughout Florida. It is a partnership between Miami Dade College and Miami-Dade County Public Schools.
Giving is Living presents a clear, practical guide to making philanthropy a part of our everyday lives. It provides 101 easy ways to show your kindness by reaching out to help those in need.
For more information, please call Carin West (305) 237-7571