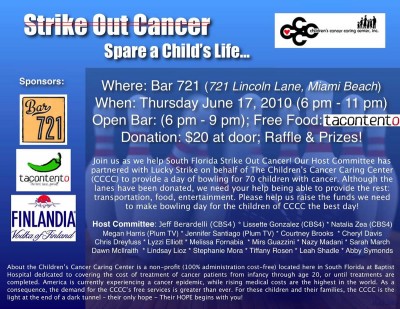 Bar 721 – Strike Out Cancer
Thursday, June 17 2010, 6pm – 11pm
Bar 721
721 N Lincoln Lane
Miami Beach, FL 33139
Open Bar 6pm – 9pm
Free Food by Tacontento
Donation: $20 at the door; raffle & prizes!
Join us as we help South Florida Strike Out Cancer! Our Host Committee has partnered with Lucky Strike on behalf of The Children's Cancer Caring Center (CCCC) to provide a day of bowling for 70 children with cancer. Although the lanes have been donated, we need your help being able to provide the rest: transportation, food, entertainment. Please help us raise the funds we need to make bowling da for the children of CCCC the best day!
Hosted by Jeff Berardelli (CBS4), Lissette Gonzalez (CBS4), Natalia Zea (CBS4), Megan Harris (Plum TV), Jennifer Santiago (Plum TV), Courtney Brooks, Cheryl Davis, Chris Dreyfuss, Lyzzi Elliot, Melissa Fornabia, Mirs Guazzini, Nazy Madani, Sarah March, Dawn Mcllraith, Lindsay Lioz, Stephanie Mora, Tiffany Rosen, Leah Shadle, Abby Symonds
Children's Cancer Caring Center is a non-profit (100% administration cost-free) located here in South Florida at Baptist Hospital dedicated to covering the cost of treatment of cancer patients from infancy through age 20, or until treatments are completed. America is currently experiencing a cancer epidemic, while rising medical costs are the highest in the world. As a consequence, the demand for the CCCC's free services is greater than ever. For these children and their families, the CCCC is the light at the end of a dark tunnel – their only hope – Their HOPE begins with you!