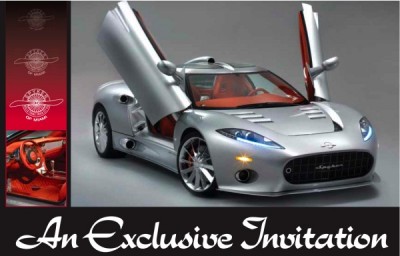 On Thursday, June 17, 2010 from 6pm – 8pm, President & CEO Craig Zinn along with LUXE Interiors + Design invite you to a special Father's Day event at Spyker of Miami: An Evening of Speed and Luxury featuring classic cars, timepieces and fine cigars!"
14100 Biscayne Boulevard
North Miami, FL 33181
Come enjoy an evening of camaraderie featuring the latest luxury items on the market while savoring signature hors d'oeuvres from Morton's The Steakhouse, signature cocktails will be served by Orzel Vodka and experience the ultimate cigar lounge with hand-rolled cigars provided by Mike's Cigars.
You can also preview the exclusive collection of Spykers. Sign up for test-drives and tours of the one million square foot facility while viewing the Spyker models as well as classic cars from the AmaZinn Car Collection.
R.S.V.P. by Tuesday, June 15th to Christine Hayes at 954-527-3334 Ext. 309 or EventRSVP@ZuckerPR.com