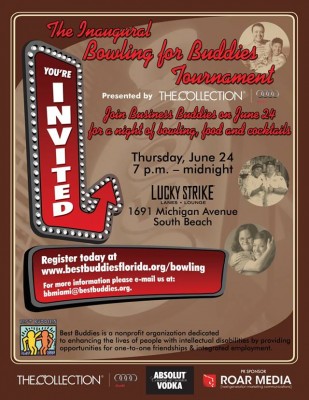 Lucku Strike
1691 Michigan Ave
June 24, 7-10pm
Join Business Buddies and the Collection for a night of bowling, food and cocktails at Lucky Strike (1691 Michigan Avenue) on Thursday, June 24th at 7pm.
Register at www.bestbuddiesflorida.org/bowling
Bowling for Buddies will feature over 30 corporate bowling teams (each team is made up of six people) and a glamorous silent auction. Each team receives one game of bowling, three drinks per team member, and three appetizers per team for a suggested minimum donation of $350. All non-bowlers receive two free drinks with a $20 minimum suggested donation.