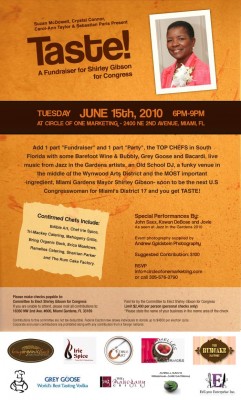 TASTE! A Unique Fundraiser for Shirley Gibson for Congress
Tuesday, June 15, 2010, 6:00pm to 9:00pm
Circle of One Marketing
2400 Northeast 2nd Avenue
Wynwood Arts District
Miami, Florida 33137
Add 1 part "Fundraiser" and 1 part "party", the TOP CHEFS in South Florida preparing their signature dishes, some Barefoot Wine & Bubbly, Grey Goose and Bacardi, live music from Jazz in the Gardens artists, an old School DJ, a funky venue in the middle of Wynwood Arts District and the MOST important ingredient, Miami Gardens Mayor Shirley Gibson – soon to be the next U.S. Congresswoman for Miami's District 17…..and you get TASTE!
Chefs include Edible Art, Chef Irie Spice, Tri-Mackey Catering, Mahogany Grille, Bring Organic Back, Eri Lynn Catering, Ramelles Catering, Averills Rain, James Ribs, Chillin & Grillin and The Rum Cake Factory.
Special performances by John Saxx, Kawan DeBose and Jovie As seen at Jazz in the Gardens 2010
Congressional Candidate and Miami Gardens Mayor Shirley Gibson plus approximately 200 supporters
All contributions will directly support the Shirley Gibson for Congress Campaign. Suggested contribution is $100.00
SPONSORS: Barefoot Wine & Bubbly, Grey Goose, Bacardi, Drummer Boy Sound. Event photography by Andrew Goldstein Photography
Gibson is a candidate for Florida's 17th Congressional District seat. She has a diverse background in the public and non-profit sector. She is the President of the Miami Dade League of Cities, a retired sixteen year Miami-Dade Police Officer, a previous business owner for more than fifteen years, and an agile community organizer. She is a skilled negotiator, using a collaborative approach to incorporate diversity, inclusiveness, and responsibility to secure effective outcomes. For the last seven years Gibson has served as the first mayor of the third largest municipality of Miami-Dade County and the largest predominantly Black city in Florida, the City of Miami Gardens. She was reelected, unopposed, to a second term in 2008.
{Please remember that Soul Of Miami is non-political, we just list the parties!}