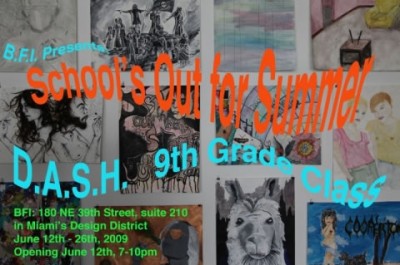 This Saturday the BFI will be presenting School's Out For Summer! a drawing show from D.A.S.H.'s 9th grade class.
OPENING RECEPTION:
Saturday June 12th, 2010.
7 – 10 pm
180 NE 39th Street, suite 210
in Miami's Design District
Come get your mind blown to pieces with these drawings!
There will be four awards given: a top prize of $100 and four $50.00 honorable mentions. Holla! Summer money!
The judges will be Ruba Katrib, Nicole Soden and Naomi Fisher with some help from Jim Drain (Naomi and Nicole hung the show on Monday and it is going to be a tough call- there are so many good ones!)
This show will be up for 2 weeks (June 12th to the 26th) so don't miss it!
Bas Fisher Invitational
180 NE 39th ST, Suite 210
Miami, FL 33137
www.basfisherinvitational.com
info@basfisherinvitational.com