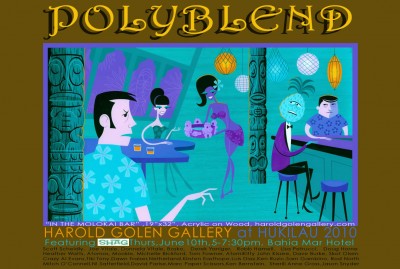 Harold Golen Gallery presents: POLYBLEND
Opening Night: June 10th, Thursday 5-7pm (Only time to see the art show with no cover is Opening Night)
Friday 10am-5pm
Saturday 10am-4pm
Come dressed in your best Mid Century Mod and Tiki Vintage!
During Hukilau 2010
Bahia Mar Beach Resort
801 Seabreeze Boulevard
Fort Lauderdale, FL 33316
The title of the show is POLY BLEND, which is the "blending" of all African, Bahamian, Brazilian, Peruvian, Floridian, Californian, Aboriginal, Asian, Easter Island, Tahiti, Tropical, Exotic, styles with Polynesian Oceanic Art, in a Mid Century Modern setting.
Participating Artists:
Shag , Derek Yaniger, Joe Vitale , Kirsten Easthope, Netherland, Donnela Vitale , Atomos, Scott Scheidly, Luis Diaz, Sherill Anne Gross, N! Satterfield , Dawn Fraiser, Dave Burke, Tiki Tony , John Kissee, Heather Watts, Sam Gambino , David Parise , Crazy Al Evans, Rod North, Robb Hamell , Bosko, Skot Olsen, Marc Paper Scissor, Ken Bernstein, Lisa Petrucci, Tom Fowner, Doug Horne, Susannah Mosher, Michelle Bickford, Mitch O'connell, Mookie , Jason Snyder, Ken Ruzic.
The Harold Golen Gallery is back again this year at the Hukilau to bring you some of the most amazing Tiki artists. This year's featured artist is none other than SHAG! He will be there in person for you to meet on Opening Night and will be available to sign all your SHAG paraphernalia on Friday at 12pm. Shag books and prints will also be available for purchase at the show. Also, all the fantastic original paintings and prints by the other featured artists, all at affordable prices. You're sure to take something home with you to remember this exciting event! Not to be missed!!
For more info go to: haroldgolengallery.com
"ALOHA"!