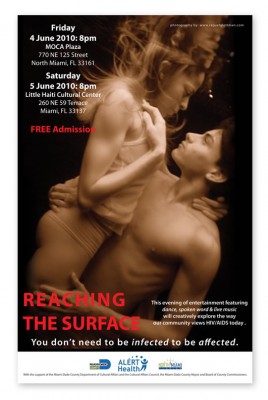 June 4, 2010 @ 8pm at the Museum of Contemporary Art (MOCA) Plaza, 770 NE 125 Street, North Miami, 33161. Reception follows at ALERT Health.
June 5, 2010 @ 8pm at the Little Haiti Cultural Center, 260 NE 59 Terrace, Miami, 33137. Reception follows in the theatre lobby.
Join us for an evening of entertainment featuring dance, spoken word, and live music!
The project, Reaching the Surface, will present you with a fresh perspective on HIV/AIDS awareness through compelling stories told with performances by artists both infected and affected.
Remember, you don't have to be infected to be affected.
Both performances are FREE admission; donations will be accepted.
alert health USES THE ARTS TO challenge STIGMA
ALERT's newest project called "Reaching The Surface" is a blend of contemporary dance, spoken word and live music to increase awareness of the impact of HIV/AIDS stigma. Artists both affected and infected by HIV will entertain and educate through compelling and relatable stories.
The performances are open to the public and free, targeting two of Miami-Dade's highly-impacted neighborhoods.