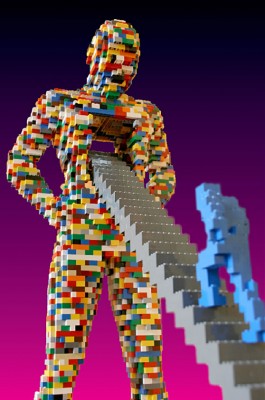 Nathan Sawaya: Replay
Opening reception: Fri., June 4, 6 – 9 pm
Live day build with the artist: Sat., June 5, 11 am – 4 pm
June 5 – Aug. 15, 2010
Internationally recognized LEGO® artist returns to Hollywood! This summer, the Art and Culture Center of Hollywood will feature an exhibition of all new work by internationally acclaimed LEGO artist Nathan Sawaya. His 2008 show at the Center drew the largest attendance in its 30+ year history. This is a show of all new artwork by an artist whose work has proven to ignite the imaginations of both children and adults alike. For Replay, Sawaya will emphasize the use of recycled LEGO bricks in some of his works.
Come watch Nathan Sawaya in action as he creates a new LEGO sculpture before your very eyes at the Center! Live day build takes place Sat., June 5, 11 am – 4 pm.
Click here for more information on Nathan Sawaya: Replay.
FLORIDA Brick Creation Challenge
Enter the challenge! Florida residents are invited to use their own LEGO® pieces to create and compete in this fun state-wide contest and exhibition. For more information, see ArtAndCultureCenter.org/brick-challenge.
Image: Nathan Sawaya, Stairway, 40 × 38 × 15 in., Courtesy of brickartist.com.
Also opening adaptation
June 5 – Aug. 1, 2010
Opening reception: Fri., June 4, 6 – 9 pm
adaptation presents a selection of contemporary artists whose practice incorporates discarded materials in order to make new forms of artistic expression. Materials include all manner of refuse such as abandoned personal items, obsolete functional objects, etc. which become reinvigorated when used as major components of newly fashioned works of art with varying contexts.
Artists include: Bradley Arthur, Rosemarie Chiarlone, Xavier Cortada, Leah Dixon, Tawnie Silva, Maitejosune Urrechaga, and Daniel Wurtzel.
Click here for more information on adaptation.