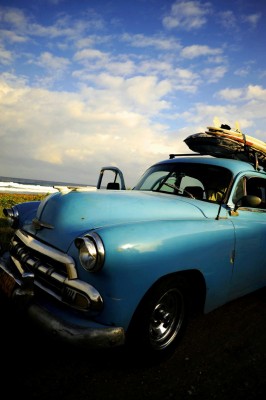 Docs in Motion and Zu Galeria Fine Arts presents Havana Surf, a documentary film by Rod Diaz.
Havana Surf will be screened for the very first time in Miami this coming Viernes Culturales.
May 28, 8pm
Zu Galeria Fine Arts
2248 SW 8th Steet
Little Havana, Fl 33135
www.zugaleria.blogspot.com
Cost – $10.00 per person
Wine and Hors d'oeuvres included
Live acoustic music by Diego Val and Floyd The Rock Artist and his Motion Art!
Hosted by Lola
Spain/58 mins.
Synopsis: Shot on location in Cuba, it's the story of six young Cuban surfers starting the sport in Cuba and legendary Australian surfer Bob Samin who inspires them.
Surfing is relatively new to the island, as is independent travel. The surfers, five men and one woman, bring us inside their lives and their homes while displaying their inventiveness as they make their own surfboards and wax out of useful junk. Regarded with suspicion by the Cuban police, these intrepid surfers remain undaunted as they travel the island nation searching for the best waves. Ultimately arriving in Baracoa, the surfers encounter Samin, visit his hidden surf spots, meet his friends and share his dream of starting a surf school for Cubans. Through the story of these surfers, HAVANA SURF takes us on a fantastic road trip of discovery.
Director: Rodrigo Diaz McVeigh
Festival, Competitions & Reviews:
Official Selection of Santa Barbara Int'l Film Festival
Official Selection of Surf Film San Sebastian
Official Selection of Festival de Cine Y Video Centroamericano
Official Selection of Quicksilver Chile Surf Film Festival
Merit Award, Indie Film Festival
Official Selection of Havana Film Festival
Sponsored by
Docs in Motion, Carla Projects Entertainment, Harvest Delights, and Zu Galeria Fine Arts
Zu Galeria Fine Arts is Little Havana's boutique d'art. We specialize in all original works of art by our roster of multi-talented artists.
Currently exhibiting, Bestiarius: works by Ena (Lapitu) Columbié.
Also exhibiting new works by Mayra Abo, Maru Antuñano,Karin Aldrey, Margarita Garcia Alonso, Salvador Lorenzo, Tony Pita, Marta Ramos, Candida Rodriguez, Ana Maria Sarlat, Leonardo Severo and Roberto Wong.
zu galeria fine arts | 2248 SW 8th St. | Miami | FL | 33135