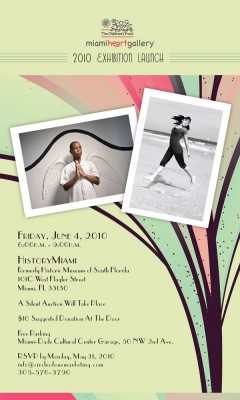 Miami Heart Gallery 2010 Exhibition Launch – Fri., June 4 @ 6 P.M.
The Children's Trust Miami Heart Gallery Features New Portraits of Foster Children Available for Adoption in Third Annual Exhibit
Museum-Quality Photographs Taken by World-Renowned Photographers to show at HistoryMiami
The Children's Trust Miami Heart Gallery is a traveling museum-quality exhibit featuring portraits of children in Miami-Dade's foster care system who are available for adoption. The Art Deco theme of this year's exhibit is inspired by Miami Beach's historic Art Deco District where all 44 portraits were photographed. Now in its third year, the exhibit has a more than 50-percent adoption rate.
The Children's Trust Miami Heart Gallery is a partnership between The Children's Trust and Our Kids, the private agency responsible for foster care and adoption in Miami-Dade County and the Florida Keys. According to the state of Florida, more than 1,500 foster children are eligible for adoption in Florida and approximately 150 of them live in Miami-Dade. These children have been removed from their biological parents for reasons of abuse or neglect with no possibility of family reunification.
Tuesday, June 8 through Tuesday, July 6, 2010
Open to the public Tuesday – Friday, 10 a.m. – 5 p.m. / Saturday and Sunday, noon – 5 p.m. On the third Thursday of the month, the museum opens until 9 p.m. The exhibit tours the community after July 6.
HistoryMiami
Formerly Historic Museum of South Florida
101C West Flagler Street, Miami, FL 33130
Museum admission fee required. Adult admission $8; Senior citizens and Students $7; Children (6-12) $5 and Children under 6 FREE. For more information, call The Children's Trust Helpline at 211 or visit www.miamiheartgallery.org.