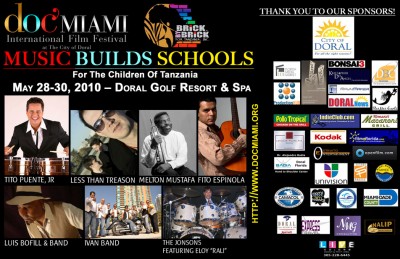 DOCMIAMI INTERNATIONAL FILM FESTIVAL ANNOUNCES
Inaugural International Documentary Film Festival and Concert Series
at the Doral Golf Resort & Spa- Memorial Day weekend May 28-30, 2010
Monica Rosales, CEO and co-founder of DocMiami , believes that "Everything You Dream is Real."
DocMiami was born from a dream to create a major cultural event harnessing the power and popularity of the documentary film medium to showcase and spotlight attention on social responsibility issues, important causes, topics and events from around the world.
Their initial vision has been expanded to include a full Memorial Day weekend of cultural activities at the world famous Doral Golf Resort and Spa. With an initial grant from the City of Doral, in Miami-Dade County, the dream to create DocMiami has become a reality.
The DocMiami international Film Festival Award Gala will take place May 30, 2010 at the Doral Golf Resort and Spa. This very special evening will honor winning filmmakers as well as special awards presented by Tito Puente, Jr. and Gloria Ordaz to La Gloria De Cuba, Olga Guillot and a posthumous Lifetime Achievement Award presented to the children of Nicolas Guillén Landrián, Elvira Valdes and Nicolas Guillén.
The first press event took place on Thursday, January 28, 2010, at Romano's Macaroni Grill in Doral located at 8700 NW 18th Terrace. Special guests included, City of Doral, Mayor Juan Carlos Bermudez, the organizer's Chairperson of the Board Dr. Toni Bilbao, and the Chairperson of the Doral Cultural Affairs Advisory Board. The official 2010 DocMiami poster was unveiled, created by City of Doral artist Kristopher Del Angel, as well as the DocMiami "NGL" lifetime achievement award, created by sculptor Laura Tobi Carcano.
The Festival will open Memorial Day Weekend on May 27, 2010 in honor of American Soldiers. A special screening of "She Wore Silver Wings," honoring the Women Air Force Service Pilots will be shown. Three Hundred U.S. Women Air Force Service Pilots are living today. Although "She Wore Silver Wings" is not a subject widely known, it is a very important part of U.S. history. This year, the WASPs will be awarded the Congressional Gold Medal of Honor in Washington D.C., making this subject timely and giving special importance to this opening screening on Memorial Day Weekend.
On May 28, 2010 a special screening of "MY RUN" will take place at DocMiami. Indiewood Pictures in Association with Destiny Pictures presents the award-winning, inspirational documentary of Terry Hitchcock, narrated by Academy Award winner Billy Bob Thornton.
After tragically losing his wife to breast cancer and struggling to raise three young children on his own, Terry Hitchcock seized on an idea. He wanted to accomplish the impossible: run 75 consecutive marathons in 75 consecutive days to bring attention to the incredibly difficult lives of single-parent families. The film is directed and produced by Tim VandeSteeg and produced by Mark Castaldo who will both be present at the screening, including Terry Hitchcock himself. All proceeds from this screening benefit the American Cancer Society, Doral Relay for Life.
On May 29, 2010 From Evolution to Revolution "Rock 'n' Roll Made in Mexico " will be screened. This documentary is the story of Mexican rock 'n' roll told by intrepid filmmakers Lance Miccio and Rock icon Fito de la Parra. Both played with the 70's band "Canned Heat" at Woodstock. Lance Miccio, Director of "Rock n'Roll Made in Mexico", will be present for a special networking meet-and-greet event for documentary filmmakers at DocMiami. The entire day is packed with Music related films such as PBS's "Latin Divas", "What About Me?", and "Do It Again". These documentaries combined, exhibit and chronical the contributions and talents of artists such as Gloria Estefan, The Kinks, Carlos Santana and more!
Closing the events on May 30, 2010 are special Screenings of "Mariel 25 and 50 Años de Exilio: el Documental". In 2009, the Cuban Revolution celebrated 50 years in power. Ninety miles away, those who throughout half a decade, emigrated in waves to the United States, proved to be a testament of those who triumphed out of tragedy.
Followed by a special screening of "The Extraordinary Journey of Fernando Bujones", Filmmaker Israel Rodriguez, a Cuban native and member of Orlando Ballet, danced under Mr. Bujones' direction for many years. Amazingly, Rodriguez had been documenting Mr. Bujones' work with the Orlando Ballet for two years when his sudden death from a rare form of cancer rocked the ballet world in 2005.
The event includes three days of cutting edge documentary filmmakers' showings and three nights of outstanding music concerts. A true celebration of documentary filmmaking at a global level nestled in sunny South Florida. The festival brings together emerging documentary filmmakers, students, and film and music enthusiasts in a truly bohemian, one-of-a-kind event. Funds raised during the three evening concerts will benefit the non- profit organization, Brick by Brick Tanzania, Inc, dedicated to building schools in the African nation challenged not only by poverty but also by drought, hunger and AIDS.
The official host of the event is Tito Puente, Jr. He will be joined by Gloria Ordaz who will welcome Melton Mustafa, of the 14th Annual Melton Mustafa Jazz Festival. Fito Espinola, The Jonsons, featuring Eloy Rali and Luis Bofill & Band will be performing!
Visit http://docmiami.org for to purchase tickets and for more information