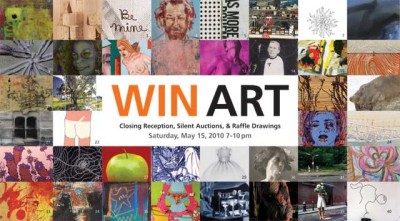 Want to get lucky?
Winning Art! Benefit Raffle
Saturday May 15 7-10 pm
Raffle Drawing and Silent Auction
An annual ArtCenter tradition – every one of the 40 paintings, drawings or sculptures in the exhibition is available for as little as one $10 tax-deductible raffle ticket. Choose the piece you want, buy a ticket, and try and win art!
A fantastic night filled with music, food, silent auctions, and fun for everyone. Everybody wins because all proceeds support education programs for children and special needs audiences – and it's tax deductible!
And, don't miss $5 raffle tickets to win one of five watches from ICE, the official timekeeper of the 2010 Winning Art! reception.
Tickets are available for purchase through May 15th in the 800 Lincoln Road gallery, by phone at 306.674.8278, or visit the studio of any Artist-in-Residence.
Silent auction featuring items from Nespresso, Harold Golen Gallery, Kiehls, Genius Jones, The Viceroy, Magic City Casino, Taschen Books, Museum of Contemporary Art,The Miami Institute , Miami Art Museum, and many others…..
ArtCenter/ South Florida Gallery
800 Lincoln Road at Meridian Avenue, Miami Beach
Winners don't need to be present to win. But it's a lot more fun if you are!