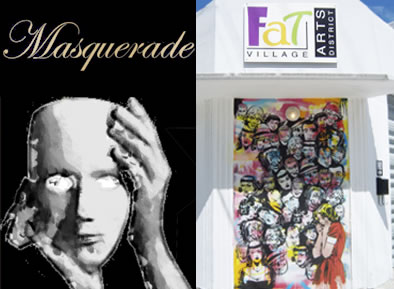 FAT Village Art Walk & "Masquerade" at Gallery 101
05/22/10, 7pm-11pm
Gallery 101 at Fat Village Arts District
501 N. Andrews Avenue.,
Fort Lauderdale, FL 33301
www.thegallery101.net
FAT Village Art District Art Walk
Featuring Artist's Open Studios at FAT Village
AND
"MASQUERADE":
A Multi-Media Arts Event and Masquerade Ball!
Opening reception and "masked gathering"
SATURDAY MAY 22nd, 2010 From 7-11 PM
this event is free and open to the public
Refreshments / Wine
This exhibit will include masks and other art works by artists responding to symbolic and concrete uses of masks related to carnival, ceremonial, spiritual, and other societal appearances of "masking". The exhibition will examine the mask as a wearable work of art, as a means of hiding or changing the identity of a person, as a protective device, literal and metaphoric meanings of"masking" in contemporary culture.
Historically, mask-makers have shown great resourcefulness in selecting and combining a wide array of materials. Artists in this exhibition also incorporate familiar and unexpected materials in their works.
Poetry by Mia Roman-Hernandez
Special "Masked " Performance by Jean Minuchin from 8:30 pm till 8:45pm
BE SURE TO BE HERE FOR THIS VERY SPECIAL TREAT!!
EXHIBIT WILL INCLUDE WORKS BY THE FOLLOWING FEATURED ARTISTS;
Lily Fernandez,Alex Heria, Adam White, Virginia Metayer, Elisabeta Hermann, Helene Ruiz, Sergio Cervantes, Lynnette Shelley, Mia Roman-Hernandez, kUrban, Janet Villasmil, Wahala Temi, Tammy Mae Moon, Patricia Ariel, Melissa Shawn Griffin, Jennifer Geiss, Damien Venditti, Rishona Cann, Judy Polstra, Jim Hammond, Joseph Intini, Jean Minuchin, Ellen Schefler, Nelson Santiago, Alex Benitez and Nadya of Dream Pieces and Outrageous Wear
This is a special event curated by Helene Ruiz, founder of The Urban Individualists in collaboration with Adam White, of Gallery 101. Exhibit runs through June 5th
(For those who may want to purchase a mask for this event, there will be a limited amount of masks available for sale at the door.)
Thank you for using Soul Of Miami!