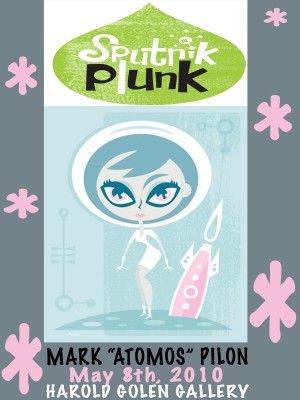 "Sputnik Plunk" MARK ATOMOS PILON/ Harold Golen Gallery May 8th, 2010, 7-11pm
HAROLD GOLEN GALLERY
2294 NW 2nd AVE
MIAMI, FL 33127
Wynwood Art District
305-989-3359
haroldgolengallery.com
Opening Reception 7-11pm
Performing live during the opening: THE GOLDDUST LOUNGE
* In addition to the 9 fantastic large 20″x24″ paintings at $800 and 3 amazing medium size 8″x24″ paintings at $500, there will be 24 original 6″x6″ paintings at $150 each, this can be a great Mother's Day gift idea that she'll keep forever! ( this applies only to those who have cool moms…)
Mark Atomos Pilon was born under the Northern Lights, in Canada's mysterious north. Perhaps it's a childhood dwarfed by the aurora borealis that made him seek out his alias. After graduating from art school, Mark was researching an art project when he stumbled across a Walt Disney book called "Our Friend the ATOM". The Greek name Atomos leapt out at him. "It means indivisible, or the smallest possible object," Mark explains. "Mystery and science are a good working combination."
Now based on the West Coast, he sent his imagination into a future that may never arrive. Every aspect of his art is carefully computer drawn and then meticulously painted in acrylic layers, to give them a sharp, print-like synthetic quality.
Mark has worked in magazine design for over 15 years as a designer and illustrator. Today he is one of three creative directors for Vancouver's Georgia Straight Magazine His commercial clients include IKEA, Walgreens, the Sierra Club, and Virgin. He continues to illustrate for magazines worldwide and paints for galleries across North America. His paintings are a natural transition from his editorial illustrations, which are still computer constructed.
Those paintings grew out of Mark's love of underground comics, space-age record jackets, scooter culture, and Moog music. "I've always been interested in the graphic arts of the 50s and 60s. They always used the best colours and lines. I love the work of Gene Deitch, Mary Blair, BC Binning, and Jim Flora."
His most recent pieces reflect a post-pop conviction with an dab of surrealism that casts aside logic to reveal slices of modern life projected from dark holes into a dreamy multicolored world. It's a style that can be recognized in an instant, but will stay with you for a lifetime. However, it's not for everyone – if you're looking for institutional, naturalistic art, keep on walking. "I have a lot of people tell me their kids can paint better than me," Pilon says with a laugh. "I'm okay with that."
In 2006, Mark received the Best Illustration Feature award for "Running on Empty" at the Western Magazine Awards.