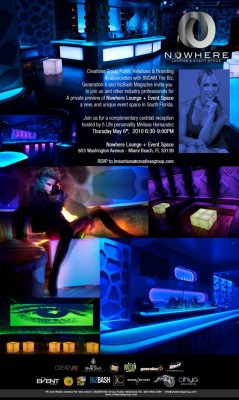 You are invited to a sneak preview of Nowhere Lounge and Event Space. Enjoy a complimentary cocktail reception while mingling with industry professionals.
NOWHERE LOUNGE + EVENT SPACE HOSTS SNEAK PREVIEW MAY 6TH 2010
WHAT: (Miami, Florida)-Nowhere Lounge + Event Space will host a "sneak" preview of the venue on May 6th, 2010, for those interested in a private event space. Hosted by ñ Life personality Melissa Hernandez and WSVN Deco Drives' Aubrey Aquino who will join "virtually" this will be a cocktail to showcase the 3000 square foot locale. Sponsored by Smirnoff Vodka, Barceló Rum, Generation ñ, BizBash Magazine, The Event Firm, JC Productions, 880amTheBiz, CIHYA.com,Where2Butlers, Captured Glory Promotions, and the Neat Stuff Organization the event will feature sounds by DJ Joe Dert.
WHEN: The by-invitation-only VIP Party will take place at Nowhere Lounge + event Space Thursday May 6, from 6:30PM- 9:00PM.
WHERE: 653 Washington Avenue, Miami Beach Florida 33139
WHO: For additional information, please contact: Creativas Group (305) 968-2384 and via email at: lmsantana@creativasgroup.com. Please visit Nowhere Lounge + Event Space on Face Book for more information.