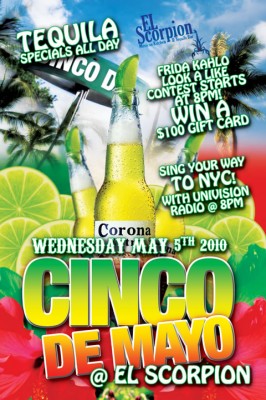 Sing your way to NYC with Univision!
We are giving away an all-expenses paid trip to NYC to attend a private Univision Radio concert featuring Juan Luis Guerra.
Join us at El Scorpion in Miami Beach for our Cinco De Mayo bash! One winner who sings the Subway jingle in English or Spanish the best (or in the most clever way) will be leaving on a jet plane for NYC!
In addition to winning a trip to NYC (if that wasn't enough) Coronas are free for the first 50 people (and only $2 each after that). And yes, we have Margaritas…the best Margaritas in town…and of course they are 2-for-1!
See you tomorrow (Wednesday, May 5th) at El Scorpion at 8pm (come at 7pm for those free Coronas!) on Miami Beach at 431 Washington Ave.
www.subwayartistasfrescos.com
Tweet us for special surprises @UnivisionLive
Acompáñanos mañana en nuestra celebración del 5deMayo @ El Scorpion en Miami Beach y participa con Univision Radio para ganar 1 viaje a NYC!