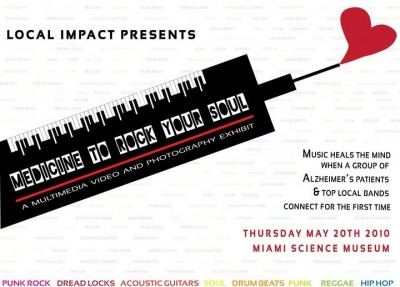 Local Impact, A Miami-Based Non-Profit Invites You To Medicine To Rock Your Soul
A multimedia video and photography exhibit
Video by Revulú
Photography By Lizzie Easton & Dimitri Zvetkov
Silent Auction to benefit Local Impact and Easter Seals of South Florida
Thursday, May 20th, 2010
7:30PM-11:00PM
Miami Science Museum
3280 South Miami Avenue
Miami, FL 33133
$10 Suggested Donation / Includes Open Bar
Local Impact, a Miami-based non-profit 501(c) 3, developed their first three-month music therapy pilot program this January, to benefit theEaster Seals South Florida Memory Gym. The weekly, one hour music session was not your typical "therapy program." During the music session it was not surprising to see Alzheimer's patients stomping their feet, dancing and playing with instruments to punk rock, reggae, hip hop and deep soul. The exhibition is based upon the connection of these two uncommon worlds and the creation and feelings it brought. There really were no rules of what type of music was brought but instead a push to expose and connect two different worlds for the first time. Top Miami-based talent such as Locos Por Juana, Arboles Libres, Omine Eager, AT Molina, Vincent Raffard, The State Of, Ketchy Shuby, Jan Sebon, Jose Elias, Elsten Torres, Xperimento, Bayonics and Michelle Forman donated one hour of their time every Tuesday at the Easter Seals of South Florida Memory Gym.
The entire program was documented through photography and video created by local photographers and filmmakers. The exhibit will take place Thursday, May 20th 2010 at the Miami Science Museum along with Live Music from some of the bands involved in the program. The night will also include a silent auction with 50% of all proceeds going to Local Impact and 50% to the Easter Seals South Florida.
For a short video clip of the music therapy session go to: http://vimeo.com/10362971
The program was developed by sisters Tanya and Natasha Bravo. Tanya Bravo has a strong background in the entertainment and music field while her sister Natasha Bravo is an occupational therapist. The sisters thought it was important to bring both these communities together and found the perfect opportunity through Local Impact.
The sisters also share a close tie with Easter Seals South Florida. Their father was diagnosed with Alzheimer's twelve years ago and is currently a patient at Easter Seals South Florida.
"It makes us so proud to see the out pouring support from the Local Music community to support local health organizations in need of programming. The photography and videos really capture the magic moments between these two groups and it is evident how much both these communities can benefit from one another" "said Tanya Bravo, co-founder of Local Impact.
As many as 5.3 million Americans are living with Alzheimer's disease. Alzheimer's destroys brain cells, causing memory loss and problems with thinking and behavior severe enough to affect work, lifelong hobbies or social life. Alzheimer's gets worse over time and it is fatal. Today, it is the seventh-leading cause of death in the United States. People with Alzheimer's may exhibit different states of behavior like apathy, anxiety, confusion. Music and its tempo can draw a person in and affect their behavior, feelings, memory, and provoke movement and the beats per minute can affect how brainwaves function.
About Local Impact
Local Impact's goal is to create a seamless tie between the South Florida art community (musicians, artists, photographers, actors, writers, film makers) and social health and community-based organizations that are in need of programming. We hope to educate our local artists about health, social and environmental issues in our community and how their talents can be used to heal and expand people and issues in need.
About Easter Seals South Florida
Easter Seals is the leading non-profit provider of services for individuals with autism, developmental disabilities, physical disabilities and other special needs. For 90 years, Easter Seals has offered help and hope to children and adults living with disabilities, and to the families who love them. Through therapy, training, education and support services, Easter Seals creates life-changing solutions so that people with disabilities can live, learn, work and play. Support children and adults with disabilities at www.southflorida.easterseals.com
Contact Local Impact: Tanya Bravo: 786 521-6017, tanya@bravabravo.com
Natasha Bravo: 305 801-7756, natahsabravo@hotmail.com
For Donations: Please make checks payable to:
Juggerknot Theatre Company 104 Santander Ave. Coral Gables, Fl 33134
Local Impact is a project created by Juggerknot Theatre Company, a Florida 501(c)(3)