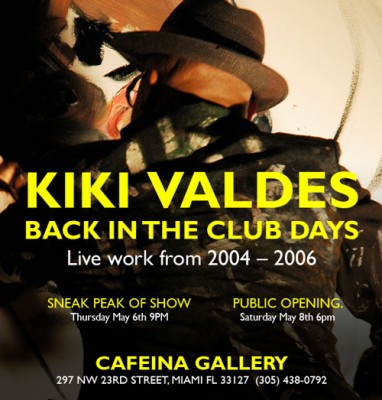 KIKI VALDES: Back in the Club Days
Saturday, May 8th, 6pm – 12am
Cafeina Gallery
297 NW 23rd Street
Wynood Art District
KIKI VALDES: BACK IN THE CLUB DAYS
Live work from 2004 – 2006
The collection of work by Kiki Valdes that will be included in the show
"Back in the Club Days" at Cafeina Gallery is from the years the artist
spent live action painting at various nightclubs around Miami Beach and
New York between 2004 – 06. The work is intuitive and direct by
application of paint. The subject matter ranges from narratives of
Hispanic stereotypes amplified by motifs of Latin women and symbols of
Caribbean culture and folklore. Each work in the show was created in a
hurry and in limited time among party spectators.
Sneak Peak of show: Thursday May 6th 9pm
Show runs till June 9th