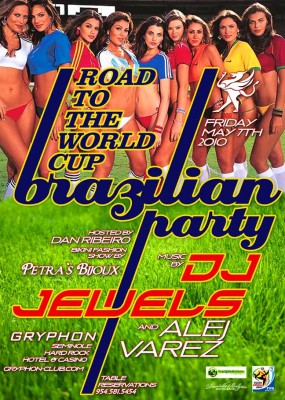 Road to the World Cup, Brazilian Party w/ DJ Jewels, Hosted by Dan Ribeiro
05/07/10, 11:00 pm
Gryphon at Hard Rock
1 Seminole way, Holywood FL
https://www.facebook.com/event.php?eid=122414231104432
The Hottest Party in South Florida finally arrives to the Hard Rock. "Road to the World Cup" at Gryphon.
Celebrating the 30-day countdown to the Soccer World Cup w/ South Florida's newest sensation DJ Jewels. He is gonna be rocking da' House w/ the hottest beats and tricks you will ever hear at a Club.
Fashion show by Danielle Buljan w/ the good looking Brazilian girls in their bikinis ft. Petra's Bijoux Collection.
Lots of birthday celebrations of people from the brazilian community. If you haven't booked yours yet contact Dan Ribeiro @ 561-206-2582 in advance to receive special birthday treatment.
Hosted by Dan Ribeiro. Sponsored by Overnightmiami.
RSVP here or e-mail full names to ribeiro.dan@gmail.com to receive FREE admission before 12:30am.
You must have your name on the list in your to get in so please don't forget to RSVP or e-mails us. Once you RSVP or e-mail your name all you have to do is arrive at the door before 12:30am and say Dan Ribeiro for FREE admission.