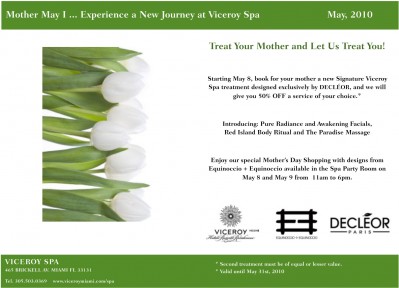 Mother May I
05/08/10, 11am
Viceroy Spa
485 Brickell Avenue
Miami FL 33131
www.viceroymiami.com/spa
Treat Your Mother and Let Us Treat You!
Starting May 8, book for your mother a new Signature Viceroy
Spa treatment designed exclusively by DECLÉOR, and we will give you 50% OFF a service of your choice.*
Introducing: Pure Radiance and Awakening Facials, Red Island Body Ritual and The Paradise Massage
Enjoy our special Mother's Day Shopping with designs from
Equinoccio + Equinoccio available in the Spa Party Room on
May 8 and May 9 from 11am to 6pm.