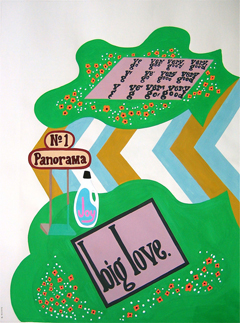 Michelle Weinberg:
Show Room
May 1 – May 30, 2010
Opening Reception: Fri., April 30, 6-9 pm
Show Room, an environment of floor coverings and room dividers designed by artist Michelle Weinberg, is a flexible platform for sharing the artist's varied production as an artist.
Click here for more information on Michelle Weinberg: Show Room.
Image: Michelle Weinberg, Scenic View 1, 2009, 36 x 24 in., Gouache on paper, Courtesy of the artist.
Art and Culture Center of Hollywood
1650 Harrison St.
Hollywood, FL 33020
954. 921. 3274
954. 921. 3273 fax
ArtAndCultureCenter.org