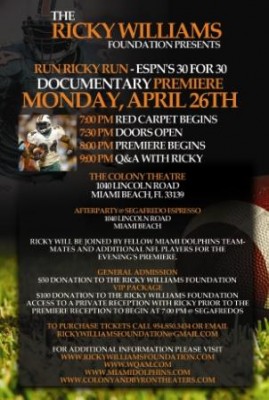 Please join us this Monday, April 26, 2010 for The Ricky Williams Foundation after party at Segafredo L'Originale at 9:30 pm, following the screening of "Run Ricky Run"- ESPN's 30 for 30 Documentary at the Colony Theatre.
Join Ricky, fellow Miami Dolphin's Teammates and additional NFL Players to celebrate the premiere of his documentary and support Ricky's foundation!!!!!
To purchase tickets to the premiere of the documentary call 954-850-3434 or email Rickywilliamsfoundation@gmail.com
For additional information please visit www.rickywilliamsfoundation.com www.wquam.com www.miamidolphins.com www.colonyandbyrontheaters.com
Hope everyone can make it! Please stop by and support Ricky Williams! Like always, it's going to be a fun and unforgettable night!