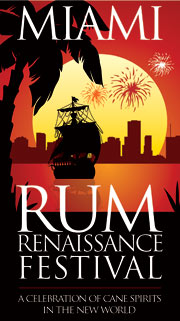 Miami Rum Renaissance Festival, one of the premier international rum events presents a unique and exciting celebration of the finest rums in the world.
The noble spirit of the Caribbean region continues to gain popularity among discerning enthusiasts as a greater variety of high quality brands become available in South Florida.
To celebrate this ongoing resurgence of rum and to encourage others to embark on a discovery of the world's best rums, author and rum aficionado Robert Burr has once again organized a five day festival in Miami dedicated to the finest Caribbean spirits.
Rum Renaissance takes place in the sub-tropical wonderland of Miami's golden beaches at the world famous Raleigh South Beach Resort. Sample the world's finest rums in this magical setting amongst the palm trees, the gentle ocean breezes and the natural beauty of South Florida.
The festival incorporates many exciting events, such as celebrity seminars, cocktail demonstrations, a Tiki Face-Off competition between British and American teams, and the Barritt's Ginger Beer competition finals.
Among the primary exhibitors hosting VIP events and presenting celebrity seminars are Abuelo Rums from Panama, Zacapa Rums from Guatemala, Cartavio Rums from Peru, the Rums of Venezuela featuring Diplomatico and Santa Teresa, plus the Rums of Puerto Rico, including Bacardi, Barrilito, Palo Viejo, Ron Llave and Don Q.
The Grand Rum Tasting Exhibition on Saturday, May 8 will include a plethora of fine rums from the Caribbean and beyond. Sample the finest rums from each island, from each category and from each notable brand. Altogether, more than 100 rum and cane spirit products will be on display at the Grand Tasting event.
On Sunday, May 9, we'll all gather around the pool at the Raleigh South Beach Resort from noon to 5pm to enjoy the sun and fun. Chill out, decompress, mingle with rum experts and enthusiasts from around the world and enjoy living the great rum lifestyle on the beach.
Experience the world's best rums, including Abuelo, Appleton, Atlantico, Bacardi, Barcelo, Barrilito, Berkshire Mountain, Brugal, Caldas, Cartavio, Chairman's Reserve, Sgt. Classick, Clement, Cruzan, Dictador, Diplomatico, Don Q, Dos Maderas, Flor De Caña, JM, Koloa, Leblon, Mahiki, Matusalem, Montanya, Ocumare, Palo Viejo, Plantation, Pussers, Ron Llave, Seven Tiki, St. Aubin, Santa Teresa, Skipper Demerara Rum, Tommy Bahama, Vizcaya, Zacapa, Zafra, Zaya and more.