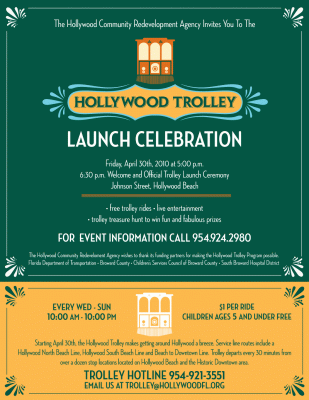 Hollywood Trolley Launch Celebration – Friday, April 30th at 5:00pm
THE HOLLYWOOD TROLLEY MAKES GETTING AROUND HOLLYWOOD BEACH AND HISTORIC DOWNTOWN A BREEZE. You can board the trolley at more than a dozen convenient locations near Hollywood's major activity and parking areas.
Come and explore the many things to see and do in Hollywood. From dining and cultural activities in Historic Downtown to exploring our good nature in North Beach and oceanfront dining, shopping and recreation in central and south beach, you'll see why Hollywood has been named an All-America city and one of Fodor's best beaches for families.
• Trolley runs every Wednesday thru Sunday, 10am – 10pm
• Trolleys depart approximately every 30 minutes from over a dozen locations throughout Hollywood Beach and Historic Downtown
• $1 per ride, per person
• Children ages 5 and under ride FREE
Trolley Hotline: 954-921-3551