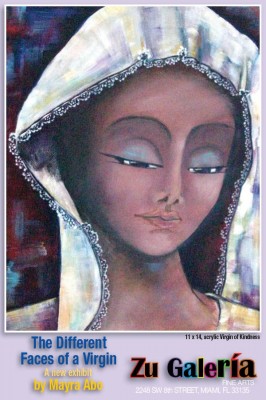 The Different Faces of a Virgin
Zu Galeria Fine Arts cordially invites you to our opening night exhibit for Mayra Abo's The Different Faces of a Virgin.
April 17th, 8pm to 11pm
Exhibit will run until May6.
Zu Galeria Fine Arts
2248 SW 8th Street
Miami, Fl 33135
www.zugaleria.blogspot.com
Mayra Abo has been working with Zu Galeria Fine Arts for the last three years. It has been two years since her last exhibit, which was a tremendous success. Mayra is a multi-talented artist, who works in various mediums, and can be seen creating wonderful handcrafted jewelry as well as incredible ceramic pieces.
This exhibit, titled The Different Faces of a Virgin is a special tribute to all women, specially during these troubled times when finally the courage of women is causing attention globally. These are not virgins you find in an altar, however they all belong in them.
zu galeria fine arts | 2248 SW 8th St. | Miami | FL | 33135