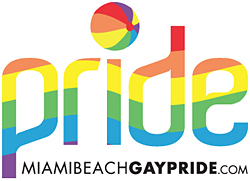 The 2nd Annual Miami Beach Gay Pride Parade
An Extraordinary Day OUT
Ocean Drive, Saturday, April 17, 2010, Starting at Noon
It's time to show the world our extraordinary beauty, strength, unity, talent, and creativity! And what better way to kick off our Extraordinary Day OUT than with a big, bold, colorful parade?
Starting at noontime on April 17, the length of Ocean Drive along the Art Deco district will be closed to traffic and open wide to our proud South Florida lesbian, gay, bi, and transgender families, Miami Beach Mayor Matti Bower, our friends, co-workers and allies– along with Pride sponsor organizations, groups and businesses.
The parade route will run from 5th to 15th Street on Ocean Drive, ending at the Miami Beach Pride Festival and Expo.
Lesbian. Gay. Bi. Trans. Straight. PROUD. Miami Beach Gay Pride is an extraordinary celebration that brings out the best in us all.
More Info
1,000+ Parade Participants
60 Parade Entries
150 Expo Booths
Sharon Gless, Pride Parade Grand Marshall
Lt. Dan Choi, Pride Parade Grand Marshall
Legacy Couples – LGBT couples who have been together 20 years or more
Miami Beach Mayor Matti Bower, commissioners and political allies
Pride Expo: Local Stage MCs
Glenn Packard — Elaine Lancaster — Alexis Arquette — Mike Manning — Mimi Gonzalez
Expo: Local Stage Entertainment
DJ Sayho – Maryell Epps (Gospel Singer) – Geraldine (Drag performer) – Miami Gay Men's Chorus – Cristopher Frazier (poetry, spoken word artist) – Tokyo Diva (Pop Artist) – Drag It Out (Drag King Performers)
Expo: Main Stage Entertainers
CRYSTAL WATERS – International Recording Artist
ROBIN S – International Recording Artist
DANNY TENAGLIA – World Renowned DJ / Producer
ESTELLE – International Recording Artist
Saturday, April 17, 2010
· Parade kicks off at noon, along Ocean Drive between 5th & 15th Streets
· Expo begins at 1 p.m., Lummus Park, Ocean Drive between 10th & 14th Streets
Thank you for using Soul Of Miami!