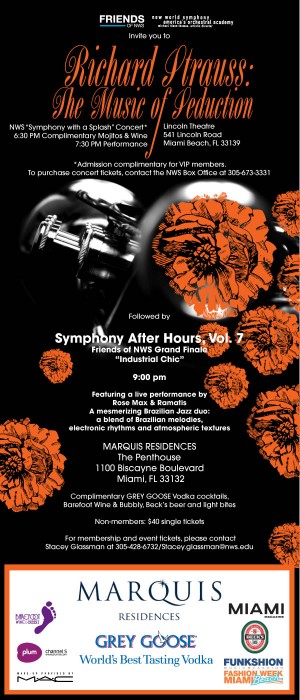 Marquis Residences Proudly Celebrates New World Symphony's Season Finale
Following the final New World Symphony Season Finale Performance, Friends of NWS will head over to the most elevated address in Downtown Miami, Marquis Residences, which is hosting the official after party in its stunning 67th floor penthouse. Guests will gather in the four-story, 10,000+ square-foot residence, which boasts the highest terrace and hot tub in South Florida and unparalleled views. Miami's chicest concert goers will enjoy a live Bossa Nova performance by Brazilian Jazz duo, Rose Max, delicious hors d'oeuvres, GREY GOOSE vodka cocktails, Barefoot Wine & Bubbly and Beck's Beer at the industrial chic penthouse party.
The entire Season Finale evening of events begins with complimentary mojitos and wine at Lincoln Theater followed by "Symphony with a Splash, " a sultry performance featuring the works of Richard Strauss. His scores of unbridled romantic gestures and rich harmonies inspired by Don Juan and Dance of the Seven Veils will set the tone for the sexy evening. This piece is classical music's most famous striptease.
The event is complimentary for Friends members. For non-members, concert tickets are $25, and $40 for the Symphony After Hours event at Marquis Residences. Annual memberships allow access to eight amazing events a year and start at $150. Contact 305-428-6732 to purchase memberships or tickets.
Saturday, April 3
Symphony with a Splash with works by Strauss
6:30 PM Complimentary mojitos and wine | 7:30 Performance
Lincoln Theater| 541 Lincoln Rd.| Miami Beach, FL 33139
Friends of NWS Season Grand Finale "Industrial Chic"
9:00 PM Complimentary libations, tours and Bossa Nova performance
Marquis Residences | 1100 Biscayne Blvd.| Miami, FL 33132