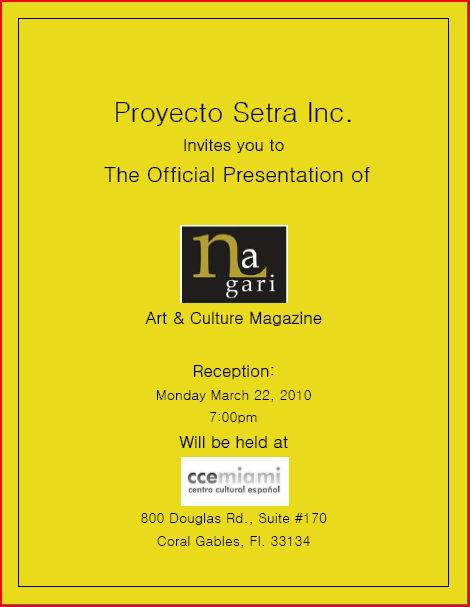 Revista Nagari
Monday, March 22, 2010
7:00pm – 10:00pm
Centro Cultural Español
800 Dougals Rd. Suite # 170
Coral Gables, FL
Proyecto Setra Inc.
Le invita cordialmente a la presentacion oficial de la
REVISTA NAGARI
Editada y promocionada desde Miami, pretende difundir y promover la ciudad como puerta de entrada de las corrientes más vanguardistas del momento y a la vez ofrecer al exterior la cosecha más original de nuestros propios creadores.
ABOUT US Nagari is a multicultural area publication that aims to bridge the gap existing in the U.S. Spanish language. It is the first magazine that attempts to spread in wider global issues, specifically related to: new poetry, fiction, literary hybrids, thinking, essays, interviews, book reviews, drama, newspaper reports, architecture, photography, classical and contemporary music, film, video, design, and other visual arts. Published and promoted from Miami, it aims to disseminate and promote the city as a gateway to the most avant-garde currents of the moment and, in turn, offer the most original foreign harvest of our own creators. Miami is the most important socioeconomic benchmark from south of the nation and Nagari wants to occupy its rightful place betting directly by the media that best defines it: the innovative development of the new Latin American culture.
MISSION Nagari Magazine's mission is to motivate his readers, and meddling in the territory of distinct cultural fields. Stimulate research in these areas of knowledge and provide a means of dissemination to raise and discuss issues on the current culture, and also facilitate the exchange of information among different groups of creators, artists, and intellectuals. Being an organization to promote the local, national and international agencies involved with creating and combining two essential subjects of the hand: the art on any of its manifestations and advertisement.
VISION It is published three times a year. It has a circulation of 5,000 copies, with an average of 25,000 readers, and distribution at institutes of higher learning, libraries, institutions, cultural centers and organizations, embassies, libraries, art galleries, museums, relevant shops , Latin American business organizations and subscriptions.