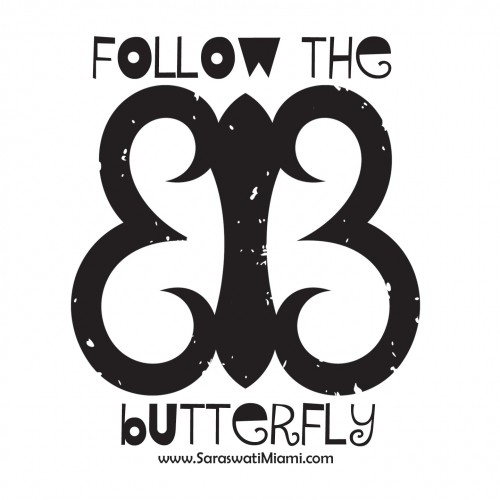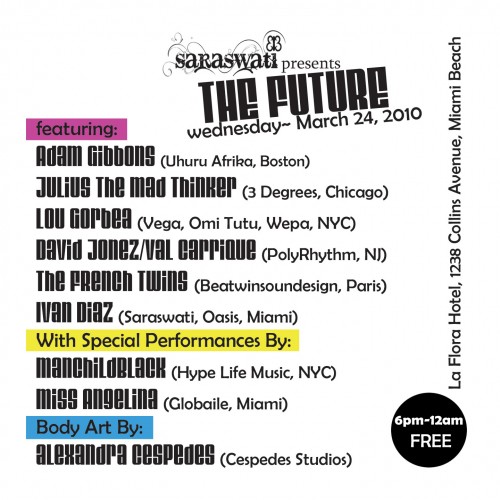 Saraswati presents THE FUTURE
Wednesday, March 24, 2010, 6PM – 12AM
@ La Flora Hotel (1238 Collins Avenue, Miami Beach)
FREE
Last year, The Future brought you up and coming DJs from around US. This year The Future will be showcasing up and coming parties that are happening across the world. These DJs and Performers are artists that are pushing GLOBAL SOUL Music in their respected cities.
Come celebrate with us as we unite people from across the GLOBE with SOUL music.
Featuring Global Soul music by: ADAM GIBBONS (Uhuru Afrika, Boston)
JULIUS THE MAD THINKER (Aid To the Souless, 3 Degrees, Chicago)
LOU GORBEA (Vega, Omi Tutu, Wepa, NYC)
DAVID JONEZ/ VAL CARRIQUE (PolyRhythm, NJ)
THE FRENCH TWINS (Vega, Nulu, Beatwinsoundesign, Paris)
IVAN DIAZ (Saraswati, Oasis, Miami)
With Special Performances By: MANCHILDBLACK (Hype Life Music, Libation, NYC)
MISS ANGELINA (Globaile, Oasis, Miami)
Body Art By: ALEXANDRA CESPEDES (Cespedes Studios, Miami)
http://www.facebook.com/?ref=home#!/event.php?eid=107830782576499&ref=mf
Thank you for using Soul Of Miami!