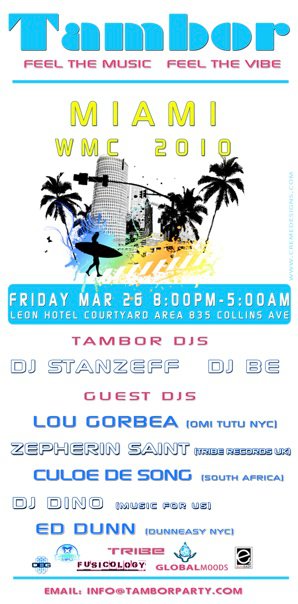 TAMBOR – WMC Edition
Lily Leon Hotel Courtyard Area
8pm – 5am
For the first time, The Tambor Party will be hosting a WMC party.
For all those that are going to WMC, the Tambor Party will be bringing the HEAT, DRUMS, and VIBE!! We'll be spreading the Tambor love to people from all over the world.
Tambor WMC Line up!
DJ BE (Tambor atl) – TAMBOR RESIDENT DJ
http://thedynamitegroup.com/djbe
StanZeff (Tambor atl) – – TAMBOR RESIDENT DJ
Lou Gorbea (OMI TUTU nyc)
Zepherin Saint (Tribe Records UK)
Culoe De Song (South Africa)
DJ DINO (Greece)
Ed Dunn (DunnEasy nyc)
more to be confirmed
Tambor WMC is going ALL NIGHT 8pm, till 5am!!!!