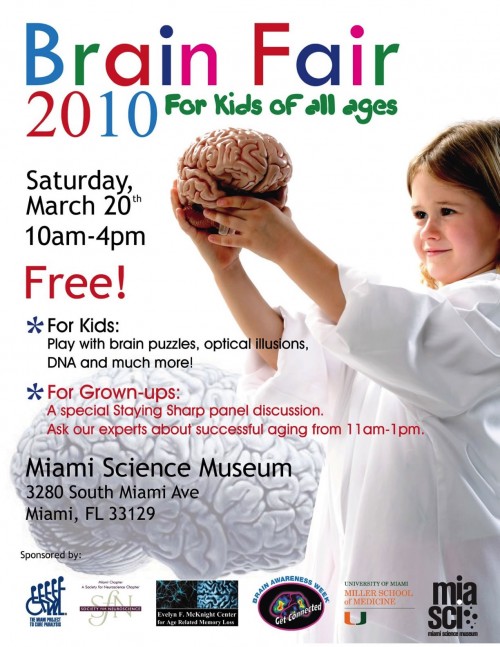 First Annual Brain Fair
WHO: The University of Miami Miller School of Medicine and the Miami Science Museum.
WHAT: The 2010 Brain Fair is an educational event designed to teach children, adults and senior citizens about brain function and many other topics of interest through a day of fun-filled activities and presentations led by experts. Children will receive a Brain Passport at the welcome booth and can collect stamps for participating in different activities like storytelling, coloring, a puppet show, and interactive games. Adult presentations will include topics such as improving memory, how to prevent Alzheimer's disease and stroke, hearing loss and balance, the effects of stress on the brain, stem cell therapy, uses of cord blood, and autism and vaccines.
WHEN: Saturday, March 20, 201010 a.m. – 4 p.m.
COST: Â FREE
WHERE:Â Miami Science Museum, 3280 South Miami Avenue, Miami, FL 33129
WHY: Â This event was created to educate the public about the brain and fascinating discoveries being made in the field of neuroscience, increase community awareness of the cutting edge neuroscience research conducted at the University of Miami, and cultivate future scientists in the Miami area.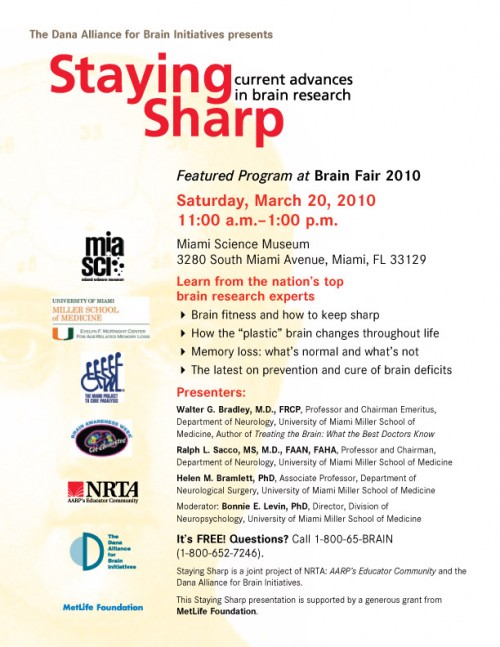 ABOUT MIAMI SCIENCE MUSEUM: The Miami Science Museum aims to make a difference in people's lives by inspiring them to appreciate the impact that science and technology can have on every facet of our world. The Museum is accredited by the American Association of Museums and is an affiliate of the Smithsonian Institution. Miami Science Museum will be moving to a new state-of-the-art facility in the heart of Downtown Miami in 2014. Museum Park, which will be home to the new Miami Science Museum and Miami Art Museum, will combine science and art in an unparalleled waterfront experience. For more information about the Museum and our New Museum project, visit www.miamisci.org or call (305) 646-4405.