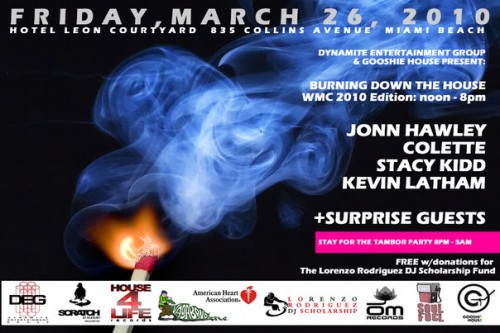 Friday, March 26, 2010
Burning Down The House WMC 2010 Edition
The Lili Leon Hotel Courtyard Area
836 Collins Ave.
12 noon – 8pm
Dynamite Entertainment Group & Gooshie House- Miami Present:
BURNING DOWN THE HOUSE – WMC 2010 Edition
Sun, fun and great house beats for your feet!
We'll be Burning Down the House from 12 noon – 8pm to get the day started right with an amazing line-up in the outdoor courtyard area and with some surprise guest DJ's to be announced soon. Then we'll continue to heat up the Miami night with the start of Atlanta's TAMBOR Party from 8pm – 5am!
Burning Down The House – WMC Line-Up: 12noon – 8pm
JONN HAWLEY Soul Fuel Recordings/ Sound Navigators
COLETTE, OM Records/ Candy Talk Records
STACY KIDD House 4 Life Records / Defected Records / DEG
KEVIN LATHAM KinetiqSoul / 4Deep- ATL / DEG
SURPRISE GUEST DJ's – To Be Announced Soon!
This event is FREE w/donations towards The Lorenzo Rodriguez DJ Scholarship Fund in association with Scratch DJ Academy – Miami and The American Heart Association.
Lorenzo Rodriguez DJ Scholarship Info
Scratch DJ Academy
American Heart Association
Vagabond Arts will be displaying one of a kind jewelry creations for your shopping pleasure!
RSVP: wmc@thedynamitegroup.com