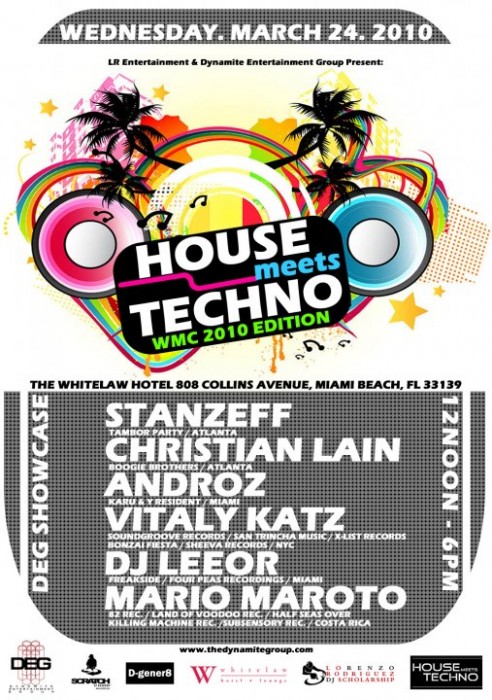 Wednesday, March 24, 2010
House meets Techno WMC 2010
The Whitelaw hotel
808 Collins Avenue
12noon – 6pm
LR Entertainment & Dynamite Entertainment Group Present:
HOUSE meets TECHNO – WMC 2010 Edition
Join us for a special DJ showcase featuring some from our roster along with a meet & greet with the DEG – DJ's and staff. This event is free for all our friends, fans and media to kick off WMC 2010. These blends of tastes are sure to wet the appetite of many electronic dance music lovers so come by for your fill and "experience the explosion" – Dynamite Entertainment Group http://thedynamitegroup.com
LINE-UP 12 noon – 6pm
STANZEFF, Tambor Party /DEG – Atlanta
CHRISTIAN LAIN, Boogie Brothers /Atlanta
ANDROZ, Karu & Y Resident /Miami
VITALY KATZ, Soundgroove Records /San Trincha Music /X-List Records /Bonzai Fiesta
Sheeva Records /DEG – NYC
DJ LEEOR, Freakside/ Four Peas Recordings /Miami
MARIO MAROTO, 82 Rec. / Land of VooDoo Rec. / Half Seas Over Rec. / Killing Machine Rec.
SubSensory Recordings / DEG – Costa Rica
FREE – accepting donations towards The Lorenzo Rodriguez DJ Scholarship. For more info: http://thedynamitegroup.com/lrds
We kick off the day with some smooth, deep house vibes provided by Tambor founder/resident STANZEFF to get you off your feet. Fellow Atlanta Dj, CHRISTIAN LAIN brings his signature funky groove to keep the party going as Karu & Y Nightclub resident DJ, ANDROZ will show you what sexy-driven Miami house is all about. VITALY KATZ shall unleash his tribal tech house sound that has been spreading around the NYC area and beyond as his latest track, "Newport Rush" was chosen for Soundgroove Records WMC compilation exclusively for Beatport.
Ready for that Mojito? Our techno portion continues with DJ LEEOR, Miami's own Freakside party resident demonstrating his love affair with the tech house, techno and minimal sounds. Closing off with a bang, DEG's own MARIO MAROTO arrives to the magic city with a DJ bag full of goodies for all you tech fiends. Marked as "one to watch" be sure to experience his high energy driven set.