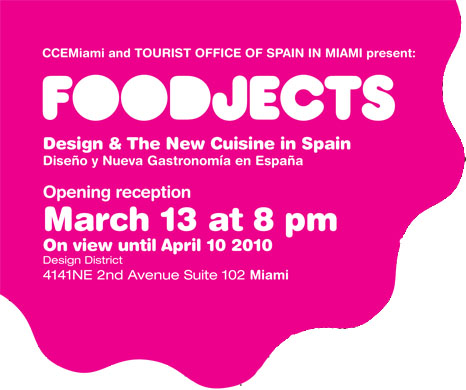 Consulate General of Spain, CCEMiami, and the Tourist Office of Spain cordially invite you to the opening reception of:
FOODJECTS Design and the New Cuisine in Spain
Opening reception at the Miami Design District
4141 NE 2nd Ave, Suite 102. Miami, FL 33137 / on view until april 10
The Spanish New Cusine has become a concept that goes far beyond the culinary dominion. This has incited a group of designers to bring their art into a fusion which has gave birth to amazing new products.
CCEMiami and the Tourist Office of Spain present this exhibition curated by designer Martín Azúa. It is a selection of more than 100 objects conceived by 30 designers and produced by Spanish companies. In all these projects functionality and creativity join their forces to respond to new necesities. Designers and chefs have shered their ideas to strengthen the relationship between food and its containers or even to inspire new culinary creations departing from a particular newly design object.