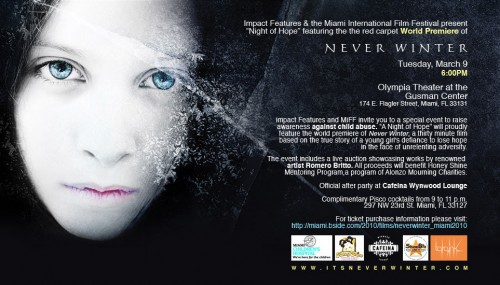 LOCAL FILM MAKER DEBUTS NEVER WINTER FOR "NIGHT OF HOPE"
DURING THE MIAMI INTERNATIONAL FILM FESTIVAL
Live auction featuring works by artist Romero Britto to benefit Honey Shine Mentoring Program
Writer/Director/Producer Moe Charif is pleased to announce the world premier of his latest cinematic endeavor at the "Night of Hope" film screening during the 2010 Miami International Film Festival. The red carpet event at the historic Gusman Center in Downtown Miami, held in conjunction with Honey Shine Mentoring Program, a program of Alonzo Mourning Charities and Miami Children's Hospital, will serve to raise awareness against child abuse. Charif will be leading off the night with the short drama Never Winter, based on a true story, which follows eleven year-old Chloe Hammond as she deals with the struggles of life with a drug addict and abusive mother. After her plan of escape backfires, Hammond's only hope is to turn to her school counselor for a chance at a better life. Never Winter is Charif's follow up piece to the 2005 award-winning action thriller Hunted.
The second showing of the evening will be preceded by a live auction with donated works by renowned artist Romero Britto. Featured items include a signed replica of the Hyde Park sculpture he created in London in 2007; in addition to his book Colors Around the World. Proceeds will benefit Honey Shine Mentoring Program.
Closing out the evening is A Step from Heaven, an inspirational documentary by Mexican director Vidal Canto which includes notable cast members Gloria & Emilio Estefan and Romero Britto. The piece follows quadriplegic Juan Angel Ruiz, a car accident victim turned motivational speaker on his quest to spread his message of inner happiness.
Post-event festivities will commence immediately following the screening as burgeoning Wynwood outpost Cafeina hosts the official "Night of Hope" after party. The multi-room resto-lounge-meets-art gallery featuring a lush outdoor garden is located at 297 NW 23 Street and will kick-off the celebration with complimentary Pisco cocktails and international tapas by executive chef Guily Booth.
About Moe Charif:
A film buff at heart, Moe Charif graduated from University of Florida with a Bachelor's degree in Visual Arts. Charif began his artistic career in 2003 with small photography projects before directing the short film action-thriller The Hunted in 2005, which was screened at over eighteen film festivals worldwide. Currently Charif has teamed up with acclaimed Hollywood movie producer Steve McEveety, in addition to friend and colleague Omar Chavez Jr., to realize his latest project Exile.
Honey Shine Mentoring Program Mission Statement: Honey Shine encourages the balance of mind, body and soul in girls and women by providing nurturing experiences that enlighten their paths and empower their future.
Tuesday, March 9, 2010
Red Carpet: 6:00 p.m.
Never Winter Screening: 6:30 p.m.
A Step from Heaven Screening: 7:00 p.m.
Official After Party: 9:00 p.m.
Olympia Theater at the Gusman Center for the Performing Arts
174 East Flagler Street
Miami, FL 33131
For tickets: 305.405.6433 or http://miami.bside.com/2010/films/neverwinter_miami2010
Cafeina Wynwood Lounge
297 Northwest 23 Street
Miami, FL 33137
For more information call 305.438.0792