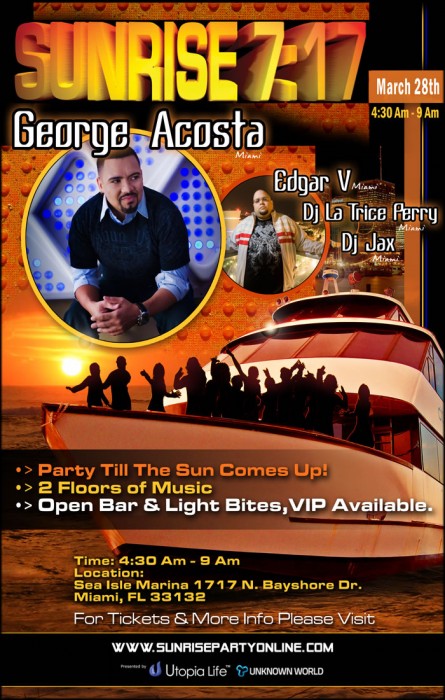 Party until the Sun comes out and beyond!
Sunrise 7:17 is a heart throbbing and bass pumping electronic musical journey aboard the City Lights Sunrise Yacht. The Sunrise Yacht will set sail through the picturesque views of Biscayne Bay to a remote location where drums and melodies will meld with mother nature. At 7:17 the bass will drop and the Sun will rise.
2 floors of music each featuring a VIP section, the Headliner deck lead by internationally acclaimed George Acosta with guests Edgar V and Jax. The Open Air Sunrise Sexy Deck on the second floor will feature an all female takeover with DJ/Producer/Model, La Trice Perry + Friends. Expect the unexpected aboard the City Lights Sunrise Yacht.
This is an EXCLUSIVE party and guest limit. Tickets WILL SELL OUT fast!!
Available now for purchase at www.SunrisePartyonline.com
General Admission Includes-Open Bar, Light Bites
VIP- Table seating and personal cocktail server along with Premium OPEN bar and snacks.