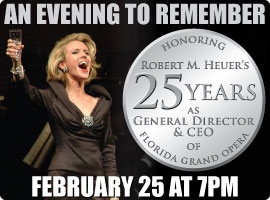 Florida Grand Opera presents more than 30 Opera Stars in Concert for One Night Only!
25th Anniversary Tribute Concert
February 25 @ 7:00 p.m.
Sanford and Dolores Ziff Ballet Opera House
Don't miss this spectacular One Night Only Tribute Concert featuring more than 30 opera stars performing with full orchestra and chorus! The program will feature more than 20 famous arias and ensembles from some of your favorite operas, including great works by Puccini, Bizet, Rossini, Verdi, Mozart, and many others. The Masters of Ceremonies for the evening will be opera legends Renata Scotto and Sherrill Milnes.
On-Stage Dinner
Seats are also available for a special dinner with the stars and Bob Heuer immediately following the concert on the Lynn Wolfson Stage. For more information, please contact Denise Courshon at 305-854-1643, ext. 1202 or dcourshon@fgo.org.
BUY TICKETS NOW!
Or call the box office at 305.949.6722 to purchase your tickets today!
The Adrienne Arsht Center for the Performing Arts of Miami-Dade County
1300 Biscayne Boulevard, Miami, FL 33132