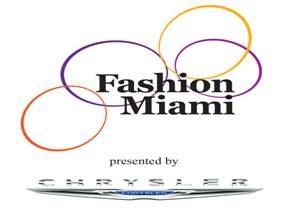 On behalf of Alain Perez, Aleksander StoJanovic, Matt Heien, Aba Kwawu and SiiNC Agency, with the support of Craig Robins and Dacra, We are pleased to announce the launch of FASHIONmiami
March 10-13th, 2010
WED / / March 10
8:00 Gen Art Fresh Faces www.genart.org
9:00 Afterparty hosted by Gen Art in the Lounge at the tent
For more information or to purchase tickets visit: GenArt.org
THU / / March 11
6:00 Unaluna
7:00 Craig Signer
8:00 FASHION MIAMI Haiti Relief Phelicia Dell winner of Diane von Furstenberg GHDC
10:00 Benefit for Haiti Relief with special performance by MaWon
11:00 Afterparty at Wall NightClub W Hotel, Miami Beach
FRI / / March 12
4:00 MIUAD Fashion Show
6:00 FGI Emerging Designers Competition
presented by Chrysler
Clothing:
1. Marcela Stark
2. Radames Alfonso
3. Nikki Poulos
4. Miranda M
Accesories:
1. Shoes – Lucas Mejia
2. Handbags – Sofia Lujan, Adriana Castro
3. Jewlery – Yvette and Eva Estime
7:00 IbellaV By Izabella
8:00 FGI Awards presented by Chrysler honoring Eva Hughes (Vogue en Espanol), Beacon Council, Silvia Tcherassi, Loren Ridinger
9:00 Silvia Tcherassi Fashion Show
10:00 Afterparty hosted by FGI
SAT / / March 13
6:00 Elements of Green
7:00 Dragana Ognjenovic
8:00 Gustavo Cadile
9:00 Custo Barcelona
10:00 Afterparty hosted by Custo Barcelona at the Lounge at the tent
The team that brought you Funkshion is pleased to announce a new venture with the support of the team behind Design District and Design Miami. This newly formed fashion platform will be known as FASHIONmiami. The spotlight on Miami's cultural significance in the world of design and art is undeniable. FASHIONmiami aims to turn that spotlight on fashion and create a destination for designers, press and buyers. www.fashionmiamishows.com
FASHIONmiami will launch this winter (2010), with a schedule of Fall/Winter 2010 collection runway shows and events taking place from March 10th to March 13th at the stunning 35,000 sq ft temporary structure in the heart of the Design District. The design district has been dubbed the "SoHo" of Miami by the Financial Times, and "A Mecca for those in search of style" by the New York Times. The neighborhood is home to FASHIONmiami , Design Miami, Limited Edition Experiences and hosts an array of events associated with Art Basel Miami Beach.
"The concept behind FASHIONmiami stems from the idea to consolidate multiple fashion events around the city and house them all under one roof – in one week" says FASHIONmiami co-founder Alain Perez. "We will now host Gen-Art's Fresh Faces shows, the FGI Emerging Designers Competition presented by Chrysler, Custo Barcelona, Funkshion, as well as multiple independently produced runway shows and showcases."
"We are extremely pleased to have our 6th annual Fresh Faces in Fashion Miami show open FASHIONmiami in the fabulous Design District – which also has been home to our Miami Art Basel events for the past two years!" said Gen Art CEO/Founder Ian Gerard.
"FASHIONmiami promises to be an extraordinary event. The runway shows coupled with the ancillary programming will provide a platform for showcasing the innovation and creativity in today's fashion industry. FASHIONmiami – which is rich in content, creativity and combines commercial interests that are relevant to consumers – is just the type of programming we strive to promote in the Miami Design District. We are pleased that FASHIONmiami will call the Miami Design District its home." Says Craig Robins, president and CEO of Dacra Development.
The Miami Design District (www.miamidesigndistict.net) is a unique, 18 square-block neighborhood just north of downtown Miami. The Miami Design District is the location of choice for exclusive retailers and fashion brands. The Miami Design District is also home to world-renowned furniture and design companies and art galleries.
Since 1925, the Chrysler brand has delighted customers with distinctive designs, allowing drivers around the world to always "Arrive in Style." Fashion Week Miami represents the perfect platform to support not only the fashion industry, but the ideals of design and craftsmanship, along with intuitive innovation and technology. These are shared traits between the Chrysler brand and the talented designers that show and illustrate in their collections during FASHIONmiami.
All FASHIONmiami events to take place on NE 39th St corner at 1st Court in the Design District